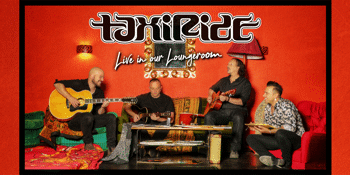 Code One Entertainment + The Harbour Agency presents
Taxiride
with special guests
Royal Hotel Queanbeyan (RHQ) (Queanbeyan, NSW)
Saturday, 31 August 2019 6:30 pm
DINNER & SHOW PACKAGES
---
Dinner service commences at 630pm. General Admission Entry at 730pm

Dinner & Show packages include entry and a two course meal (Entrée & Main), alternate serve.
*Shared table allocation: 2 or 3 people ticket holders are seated together*
Please note: this show will have limited seating and be standing only, dinner&show tables cannot be joined together on the evening and dinner will be allocated in multiple rooms separate to the show. Each below purchase option will allow you to buy one whole table. Tables may be place together to suit numbers. If you require more than one table per purchase please call our customer service team on 1300 762 545.
Special Needs Booking Information
For special needs bookings (including specific dietary requirements) please contact the venue directly on (02) 6297 1444.
Online Ticket Availability
Dinner & Show sales close at 12pm on the day prior to the event.
Show Only sales are available up until 4pm the day of the event. Door Sales are subject to availability

In four special and intimate shows in August, original members Jason Singh, Tim Watson, Tim Wild, along with new recruit Taylor Sheridan, will present the 'Live in Our Lounge Room' tour. . An intimate acoustic show that weaves storytelling and song in a two-part show through the band's history. The show will blend tales from Taxiride's humble beginnings in Tim Wild's lounge-room in Camberwell, through to the heady days recording in LA, to the current day and the band's rebirth.
Tim Watson says: "We want to share where we came from, how we evolved, and what makes us tick. To tell the stories behind the birth of songs like 'Get Set', 'Creepin' Up Slowly', and 'Everywhere You Go', the crazy moments of having a #1 record as well as the tales of discord and woe that created a hiatus in the band's history. The 'Live In Our Lounge Room' tour marks a return to the how, what and why that made Taxiride a part of Australian music history…"