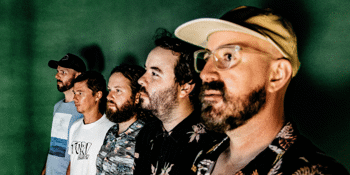 Science Rockets
Not Good, Not Bad
The Hamilton Station Hotel (Islington, NSW)
Friday, 14 May 2021 8:00 PM
Brand new and reverb-soaked, Science Rockets create a sonically charged set of love and loss songs with an occasionally tougher edge.

Channelling the likes of Ride, Slowdive and Secret Machines shoegaze sensibility, crossed with the angular edge of Interpol, Nothing and Foals at their heaviest. They are also not afraid of the occasional prog meltdown!

The Newcastle based alt-rock bands intention is to make music that grabs your attention from the moment it starts and drags you to places you wouldn't have thought it could go.

A covid delayed first gig at Lizottes resulted in a sold-out first show for the band. The lockdown proved constructive for the 5 pieces as they created their "Social Distance Sessions". A 40 min live set debut on YouTube in April 2020

Supporting them on this show will be Not Good, Not Bad. Hailing from the sunburned streets of Newcastle, Not Good Not Bad play a colourful introspective bop that will move you (emotionally).

Drawing influences from seminal Emo acts like Death Cab For Cutie, beloved Dream-Pop outfits like The Pains of Being Pure at Heart, hardcore punk as well as musical theatre, Not Good Not Bad blur the conventions of genre into a sound that is truly their own. Made up of four close friends who had never played their respective instruments in a band before, their output is rich with sticky hooks, depth of emotion and danceable grooves.