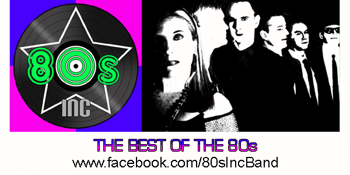 Earl Cole Music presents
80s Inc
The Best of the 80s!
Bar1 Night Club (Hillarys, WA)
Saturday, 2 November 2019 8:00 PM
"80s Inc" will be performing at Bar 1 Nightclub in Hillarys for the very first time on Saturday 2nd November. One of Perth's most popular cover bands, 80s Inc perform the very best hits of the 80s - the songs we all know and love. The band performs a wide range of 80s genres and has an huge repertoire of 80s classics to choose from. For further information about 80s Inc please visit http://earlcolemusic.com/80s_inc/ or https://www.facebook.com/80sIncBand/. Tickets cost $25 plus booking and credit card fees or $30 at the door (if it is not a sell out beforehand). Doors open at 8.00 pm.