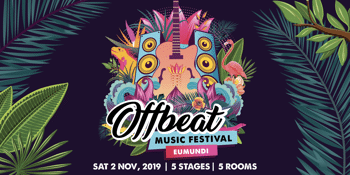 Imperial Hotel Presents
Offbeat Music Festival
The Beautiful Girls, Vaudeville Smash, OKA, Kallidad, Blues Arcadia, Black Rabbit George, Ayla, Fragile Animals, Dorah Jacson, First Beige, Kurilpa Reach & more....
Imperial Hotel Eumundi (Eumundi, QLD)
Saturday, 2 November 2019 12:00 pm
OFFBEAT MUSIC FESTIVAL
The Imperial Hotel Eumundi will host the inaugural OFFBEAT MUSIC FESTIVAL on Saturday 2 November 2019.
The festival will take place from 12noon - late, boasting five stages across five rooms.
Festival Organiser Alice Jones says OFFBEAT will bring together a vibrant community of musicians, artists and performers.
"And OFFBEAT promises to be just that," says Alice "A little offbeat, a bit quirky, a little off the beaten track, and a bit of the unexpected!"
"We thought it was time Eumundi had a music festival and can't wait to throw open the doors here for an epic day of music, theatre and good fun," she said.
"We're stoked to be welcoming THE BEAUTIFUL GIRLS to the Coast to headline the festival," she says "The Beautiful Girls were the obvious choice to headline for us. Mat McHugh's music embodies so much of what life here is all about."
As Mat says of his music, "There's always got to be this underpinning dubby rhythm and a certain propulsion to the groove. I try to keep the lyrics raw and real and to keep a punk rock spirit in the approach… All the elements, I feel, have just become more refined and better articulated over time. More life, more fire."
The announcement of bands includes:
The Beautiful Girls * Vaudeville Smash * OKA * Kallidad
Blues Arcadia * Black Rabbit George * Ayla * Ruby GilberT
Dorah Jacson * Fragile Animals * FIRST BEIGE * KURILPA REACH
STREAMS * ZAC GUNTHORPE * TOBIAS * THE CRIKEYS * ALFANANT
DJ'S & MORE..
Further artists to be announced in the weeks ahead.
N.B. OFFBEAT MUSIC FESTIVAL is an 18+ event.
https://www.facebook.com/events/916429675376566/