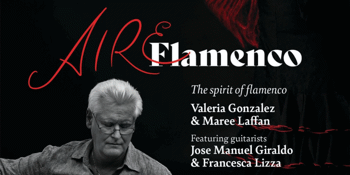 Aire flamenco Tablao
Lyric's Underground (Maylands, WA)
Sunday, 9 May 2021 4:00 pm
Come for a journey into the world of Flamenco with all the traditional sights and sounds in the underground of Lyric Lane. With opportunities to learn the dance and join in, alongside Spanish wine and food, this is a night not to be missed.

Aire Flamenco dancers join featured guitarist Jose Manuel Giraldo for an evening of Spanish music and dance. Madrid born Jose Manuel Giraldo is the pre-eminent flamenco guitarist in Western Australia and will be joined by Francesca Lizza in a series of guitar solos and duos. Dancer's Valeria Gonzalez and Maree Laffan will follow with a selection of work that will transect flamenco styles and regions in Spain.

So get a group together and join us for this traditional Spanish Flamenco Tablao!

Minors are welcome to this show however must be accompanied by their parent or legal guardian at all times.