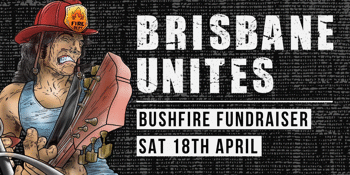 POSTPONED - Brisbane Unites! A bushfire fundraiser
Mansfield Entertainment Centre (Mansfield, QLD)
Saturday, 18 April 2020 12:00 pm

***EVENT POSTPONED - DATE TO BE ADVISED***

Brisbane Unites! A bushfire fundraiser
Saturday April 18 sees Brisbane music fans banding together at the iconic Mansfield Tavern with a line up of 20+ of Brisbane's finest rock and metal bands, all playing for one very important cause; to raise much needed funds for all those affected by the relentless bushfires.
Music is a platform that will always draw people together and as we see our country burning, at a time when so many feel so helpless, let's use live music to unite and give what we can to help those in need.
All proceeds will go directly to Red Cross Bushfire Appeal AND the Bushfire Trauma/Mental Health Support gofundme set up by Magda Szubanski and Will Connolly + OzTix will also be donating all booking fees directly to the charities.
Whilst a lot of charities are working tirelessly to help right now, there is one set up to help AFTER the fires have settled. The trauma caused by the fires will sadly be there long after the last fire has burnt out. Magda Szubanski and Will "Eggboy" Connolly, have teamed up with organisations like Beyond Blue to raise money for ongoing mental health support for those affected and we will ensure some of the money raised goes to this very important cause. Mental health is something the music community is very passionate about speaking up about and helping to support. For more details or to donate right now to their gofundme page, click HERE.
For more details on how Red Cross are helping those in need in relation to the bushfires and to donate now, click HERE.
Brisbane Unites! A Bushfire Fundraiser - SECOND Line Up Announcement:
We are stoked to add these hard hitting, heavy rocking bands to the line up:
Minus Life
DeadYet?
RHINO
Snake Mountain
Goatzilla
Kaosphere
Zero1Zero
Fun With Explosives
Nobodys Heroes
With the second line up added, this gives us a whopping total of 28 bands!
Like Thieves
Darkcell
From Crisis To Collapse
Massic
Minus Life
Hammers
PistonFist
DeadYet?
F.U.C.
Sunset Junkies
EvilEye
Smoking Martha
RHINO
Snake Mountain
Goatzilla
Last 9 Days
New Clear Vision
Kold Creature
Kaosphere
Trinatyde
For The Wolves
Monster Fodder
From the Well
THE AUTOMATON
Torizon
Zero1Zero
Fun With Explosives
Nobodys Heroes
With this stellar line up tickets are bound to fly out the door! Don't wait; don't hesitate, just grab your tickets NOW before it's too late! Not only do you get a day and night full to the brim of quality live music from some of the best rock and metal bands in Brisbane, but you also will be helping to raise money for a very important cause.
United, we can make a difference. Together, we can help. With music, we can sing our support to those in need.