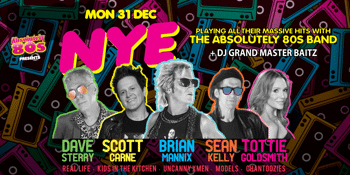 Mannix, Carne, Goldsmith, Kelly & Sterry - NYE PARTY
with special guests Scott Carne, Brian Mannix, Tottie Goldsmith, Sean Kelly, Dave Sterry and DJ Grand Master BAITZ.
Matthew Flinders Hotel (Chadstone, VIC)
Monday, 31 December 2018 8:00 pm
Get ready for the biggest NYE Party in town.!
Celebrate the New Year & join in on the countdown with:
Scott Carne - Kids in The Kitchen
Brian Mannix – Uncanny Xmen
Tottie Goldsmith – Chantoozies
Sean Kelly – Models
Dave Sterry – Real Life
Playing all their massive hits with The Absolutely 80's Band, plus the always entertaining DJ GRAND MASTER BAITZ...!!