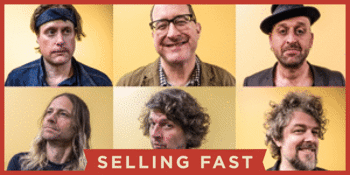 Destroy All Lines presents
The Hold Steady - Celebration of Stay Positive + Fan Favourites
The Croxton Bandroom (Thornbury, VIC)
Saturday, 28 May 2022 7:30 PM
Rescheduled To May 2022. All Existing Tickets Remain Valid And No Action Required

For the first time in almost a decade, THE HOLD STEADY are returning to Australia for Boys And Girls Down Under — a weekend of exclusive performances in Melbourne, May 27 + 28, 2020 at The Croxton Bandroom!
Boys And Girls Down Under builds on unforgettable residencies in various cities in the USA, Toronto and London that THE HOLD STEADY have been doing since 2016. Australia's turn will see THE HOLD STEADY perform Boys and Girls in America in full on one evening and Stay Positive in full on the other.
Friday 27th May -Croxton Bandroom, Melbourne
Performing Boys And Girls In America in full + Fan Favourites
Saturday 28th May –Croxton Bandroom, Melbourne
Performing Stay Positive in full + Fan Favourites