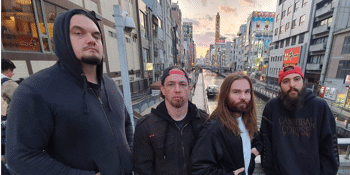 Young Henrys presents
MASON
Flaming Wreckage & Vexation
Crowbar Brisbane (Fortitude Valley, QLD)
Saturday, 1 February 2020 7:00 pm
Please note Crowbar Brisbane has moved!!!
The Brightside is now known as Crowbar Brisbane and The Valley Drive In will be now known as The Brightside - 27 Warner St, Fortitude Valley. All tickets purchased to shows at Crowbar Brisbane & The Brightside will be honoured at the new Crowbar Brisbane - 27 Warner St, Fortitude Valley.
Young Henrys presents
KILL OR BE KILLED 2020 Australian Tour
This summer the new generation of metal will be destroying 6 cities over 6 dates, dominating the Aussie club scene in 2020.
Whether your'e a THRASH, GROOVE or DEATH Metal fan, the "Kill Or Be Killed" tour has it covered.
BRISBANE - CROWBAR - SAT 1 FEB
DO NOT MISS YOUR CHANCE TO SEE THE HEAVIEST TOUR OF THE SUMMER!!!