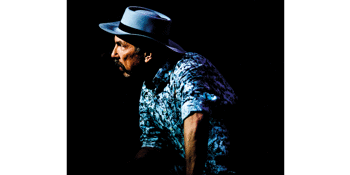 CANCELLED - Rob Snarski
The Wheatsheaf Hotel (Thebarton, SA)
Sunday, 1 November 2020 4:00 PM
Rob Snarski is the velvet-voiced troubadour and singer with our national treasures The Blackeyed Susans. Originally meant to be a "holiday band" for one of this country's greatest exports, The Triffids, The Blackeyed Susans became a "real band" in 1989 and boast multiple ARIA nominations, tours with Johnny Cash, Leonard Cohen and Wilco.
Rob launched his debut solo album, "Wounded Bird" in 2014. In 2015 he followed it up with "Low Fidelity", a selection of covers with producer Shane O'Mara and in 2019 released his 3rd, "Sparrow & Swan".
He's also a part-time hired gun having toured Europe as guest vocalist with The Triffids and more recently performing with The Go-Betweens at Sydney's Grand State Theatre as part of the Sydney Festival and currently just performed with The Lost Songs of David McComb at Adelaide Fringe this year.
Expect golden songs, haunting and elusive - from Rob's acclaimed solo release "Wounded Bird", mixed with shimmering new tunes, a chapter or two from his book, several covers from "Low Fidelity", and perhaps a song from Chad's Tree, The Triffids, The Go-Betweens… or even Paul Kelly.
In short ... expect the past, the present and the future.
"Smooth and sultry enough to coax life and love back into the most damaged of souls" (Steve Bell / The Music)
http://www.robsnarski.com/
https://www.facebook.com/RobSnarski
REVIEWS
"One of the great romantic singers. A Costello-like knack for rhyming couplets.... the perfect solo album: satisfying the rusted-on fans and hopefully gaining the wider audience he deserves."
- FOUR AND A HALF STARS Jeff Jenkins, STACK