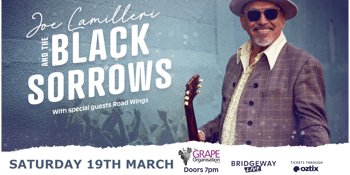 The Grape Organisation
Joe Camilleri and The Black Sorrows
Road Wings
The Bridgeway Hotel (Pooraka, SA)
Saturday, 19 March 2022 7:00 pm
Joe Camilleri and The Black Sorrows are one of Australia's most prolific and enduringly popular bands renowned for their high-energy live shows, musicianship and infectious, rootsy rhythms. Joe will present the classic soul, blues and country hits you love from The Black Sorrows' enormous back catalogue along with a selection from Joe's new 50th album release The Black Sorrows' Saint Georges Road (Released date: 17th September 2021)
.
Joe Camilleri has been at the forefront of Australian music for decades as leader of Jo Jo Zep and The Falcons and The Black Sorrows and as writer of radio anthems Hit & Run, Shape I'm In, Chained To The Wheel, Harley & Rose & Never Let Me Go. Joe is an ARIA Hall of Famer and one of the most committed and successful musicians this country has produced.

The Black Sorrows will be supported by Adelaide's very own Road Wings performing Blues, Roots, Funk and Rock. Check out their music at their Facebook and Spotify.
Don't miss this exciting music event at the Bridgeway Hotel, it's guaranteed to get your toes tapping.