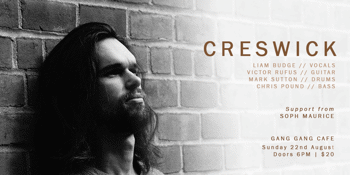 Creswick
Gang Gang Cafe (Downer, ACT)
Sunday, 3 October 2021 6:00 pm
This performance at Gang Gang will mark Creswick's first show since returning to Australia.

Since releasing his debut jazz album to critical acclaim and a four star review in The Australian, "Creswick" a.k.a Liam Budge has continued to establish himself as one of Australia's leading vocalists and song-writers.

In 2014 Liam relocated to New York City to begin working on new musical ventures and projects. During this year Liam recorded and played with New York City's finest musicians including Chad Lefkowitz-Brown, Kris Bowers & Brad Williams. Liam also studied under Grammy-Winning Jazz Vocalist Kurt Elling.
Most recently Liam launched his new project "Creswick" and released a self-titled Debut EP in late 2018. This EP featured guitarist Nir Felder (John Mayer, Chaka Khan) and saxophonist Troy Roberts (Van Morrison, Jeff Tain Watts). Written about the Syrian refugee crisis, this work combined a modern jazz approach with lyrical story-telling.
Freshly graduated from the ANU School of Music, Soph Maurice has writing and recording collaborations with Ben Woolner (SAFIA), Groovy Daughter, Chris Endrey and many others already in the release pipeline.