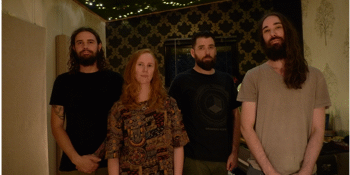 TANGLED THOUGHTS OF LEAVING - 15 YEAR ANNIVERSARY
Rosemount Hotel (North Perth, WA)
Friday, 4 October 2019 8:00 pm
15 years after their first performance as a band, TToL returns to the Rosemount to celebrate the occasion.
Far from slowing down, the band is still evolving between albums and in 2019 clocked up tours of Australia and Europe, including a set at
Belgium's legendary Dunk! Festival. This special 15 year anniversary performance will feature some older tracks worked in with the
new.

Main support comes from the omnipresent and always excellent Mt Mountain. A consistent release cycle has seen them gain reverence and adoration nation wide,
with yet another new album looming on the new horizon. Catch Mt Mountain to witness the best slab of droning psych rock you can imagine.
Erasers have melted minds in 2019 with new music and captivating live performances. Organ drones and melodic synths, catchy electronic beats and
ethereal vocals, dreamy guitars and structures that live and breath. Don't miss power duo, Erasers.