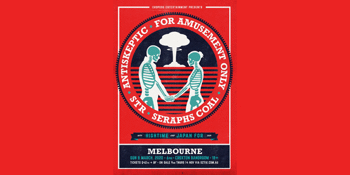 Chopdog Entertainment presents
Antiskeptic + For Amusement Only + Seraphs Coal
with Hightime and Japan For
Corner Hotel (Richmond, VIC)
Sunday, 8 March 2020 6:00 pm
Antiskeptic head up a massive 90s punk nostalgia triple header.

No stranger to controversy, Adelaide's Seraphs Coal was accused of "voter fraud" when their single "Hope Is Where the Heart Is" debuted at #4 on Triple J's Net 50, before proceeding to hold steady at #1. This was the start of a series of unfortunate events that Juice Magazine dubbed "Seraphsgate", ultimately seeing the band blacklisted by Triple J. The year 2020 see's the band coming back one last time for some special "Resurrection" shows. After selling out three Adelaide shows in under an hour, they've now grabbed some very special old friends to play with in Melbourne.
For Amusement Only captured the hearts of all pop-punk fans in the early 2000's. FAO did the rounds throughout Australia many times with the likes of The Offspring, Millencolin, Good Charlotte, Sum 41, New Found Glory & Unwritten Law. Their Single "Believe" from the "One for the Team EP" received high rotation on Triple J, rocketing into the #1 spot on the net 50 in 2003. After a promise of an album that never came and to the dismay of their strong and ever growing fanbase, the band called it a day in 2004. Since then rumours are that they got heavily involved with the mafiasco becoming top of the food chain with Mark and Benno even becoming made men. Freshly out of prison this show sees the band play with their original line up for the very first time since.
Fellow pop punkers STR reunite, playing their first Melbourne show since 2005 and first show since 2011. Reggae / hardcore / funk / punk band HIGHTIME are joining in on the fun as are Melbourne punks JAPAN FOR.