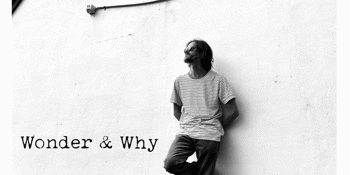 Range Road Records
Zac Gunthorpe 'Wonder and Why' with Hillsborough and Sky Staniford
Hillsborough and Skye Staniford
It's Still A Secret (South Brisbane, QLD)
Friday, 12 August 2022 7:30 pm
In a celebratory 10th year as a recording artist, Zac Gunthorpe is releasing new music. The first single... 'Wonder And Why'.
Lyrically the song speaks of connection and care. Care for land below, stars above, all woven together, with heart and with love. It's a yearning for the fading light. May the slightest flicker always remain. Zac has decided to take 'Wonder and Why' on a short run of solo shows with Eumundi Coffee Co being the first stop.
Zac is going to give you a chance to go beneath veneers of simplicity into understated complexity and nuance. Listening, you might begin to hear why he doesn't need anything more than his guitar and his voice to enchant the moment. Be prepared to dive under the facile surface of day-to-day appearances, into sophisticated, fertile awareness. – Charlie Macneil
With a few special guest appearances it will be a morning not to miss.
HILLSBOROUGH
Since 2016, Hillsborough have been peddling their own brand of alt-country/blues
at bars and festivals around Queensland. The culmination of years treading the
boards at live music venues around the globe, Phil Usher and Beata Maglai have
had the privilege of sharing the stage with a weird and wonderful kaleidoscope of
artists - from The Dandy Warhols through to Tina Arena and a whole lot in
between. The name Hillsborough was adopted as a tribute to a region in Western
Queensland where Phil's family have been living since the late 1800's. Started
initially as a side project to Brisbane's Psych/Garage machine Sacred Shrines, the
group has carved out its own corner with the addition of Glen Russell (Double
Bass) and Jonathan Pickvance (Drums) to their live shows, to help fully capture
the sound of their debut album. Chief songwriter Phil Usher has had his work
featured internationally on tv shows and movies, with songs featured on Gossip
Girl, Dawson's Creek, Bondi Rescue, Underbelly and more. With inspiration mined
from a wide range of sources - from Outlaw Country to 60's West Coast
Psychedelia and beyond, Hillsborough's nostalgic cowboy songs feature stripped
back guitar wrangling, vintage keys and classic harmonies. Coming soon to a
dive bar near you...
Sky Staniford
Sky is a singer/songwriter,compulsive collaborator,dog lover and professional soup maker. Here are some more facts about Skye:
- Recently sold her guitar on Gumtree because she thought she would never play again. Will have to get another guitar.
- Was in a band called We All Want To for over a decade and they released a handful of glorious studio albums thanks to their fearless leader Tim Steward.
- Has provided harmonies,flute and percussion for friends in other bands such as the Valery Trails, Suicide Country Hour, Mexico City, Sabrina Lawrie's Hunting Party, The Shambolics, Galapagos and definitely more.
- Spent a good decade on the fringe circuit performing with Golden Virtues as the band for selebrated Australian poet David 'Ghostboy' Stavanger.
- Drums in three-piece garage punk band Slumlawwd, who released their first album last year on Melbourne label Off The List Records.
- Enjoys burning poetry and journals in occasional outbursts of pyromaniacal self-sabotage.
- Recently returned to Brisbane after a lengthy exile on the South Coast of NSW.
- Looking forward to playing this show, opening the evening for her good old pals Hillsborough and the wonderful Zac Gunthorpe.
Every ticket sold equals 1 tree planted.