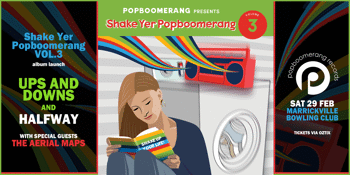 Pop Boomerang
Ups and Downs and Halfway
The Aerial Maps
Marrickville Bowling Club (Marrickville, NSW)
Saturday, 29 February 2020 7:00 pm
Joining forces to co-headline the night in rare Sydney appearances are Brisbane iconic four piece Ups and Downs who will showcase their brand of ethereal, jangly guitar pop and fellow Brisbane 7 piece legends Halfway, a band who tick both the Americana/alt-country box as accurately as they slot into the world of indie rock. Joining the and Ups and Downs and Halfway are speical guests, Sydneys cherished indy storytellers The Aerial Maps.
The night will feature guest DJ's as well as a huge merch desk.
Shake Yer Popboomerang Volume 3 is a 37 song compilation that documents and celebrates the Australian music scene with iconic songs from legendary, influential and up and coming bands.