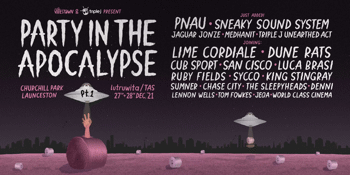 triple j and Vibestown Present
Party in the Apocalypse Pt.1
Just added - Pnau, Sneaky Sound System, Jaguar Jonze, Medhanit. Joining - Lime Cordiale, Dune Rats, Cub Sport, San Cisco, Luca Brasi, Ruby Fields, Sycco + Stacks More!
Churchill Park (Invermay , TAS)
Mon 27 - Tue 28 December 2021 11:30 AM
MAJOR UPDATE!

PITA is changing our dates! 27th & 28th of Dec (both public holidays), Tickets will back on sale Monday 22nd at 6pm.

Addons to

Please keep track of us on our socials for the latest updates.

Unable to make the new dates? If you would like to request a refund, the refund portal will be open from Monday 22nd Nov via Oztix. Sorry for any frustration this date change may cause, we hope you can come enjoy some live music with us over the festive season!

________________________________________________________________________

Vibestown, the team behind Party In The Paddock, are kicking off the first weekend of summer with sibling Festival, Party In The Apocalypse. 'PITA' is the (COVID-safe) urban rendition of the late, great PITP and is inspired by the wild times that we're living in.
With a fresh perspective on the word 'Apocalypse' and it's origin meaning of fundamental change, it's never been a more important time for us to keep music, culture and art alive.
This two day, non-camping music & arts festival will take place at Churchill Park in Launceston, and bring some of the country's best bands to the state for one of the biggest lineups to hit Tassie since COVID began. Festivals, as we know them, have been paused, but it's time to bring back the essence of the well-loved 'Party' once again. With the full line-up announcement and tickets just around the corner, stay tuned and prepare for the Apocalypse…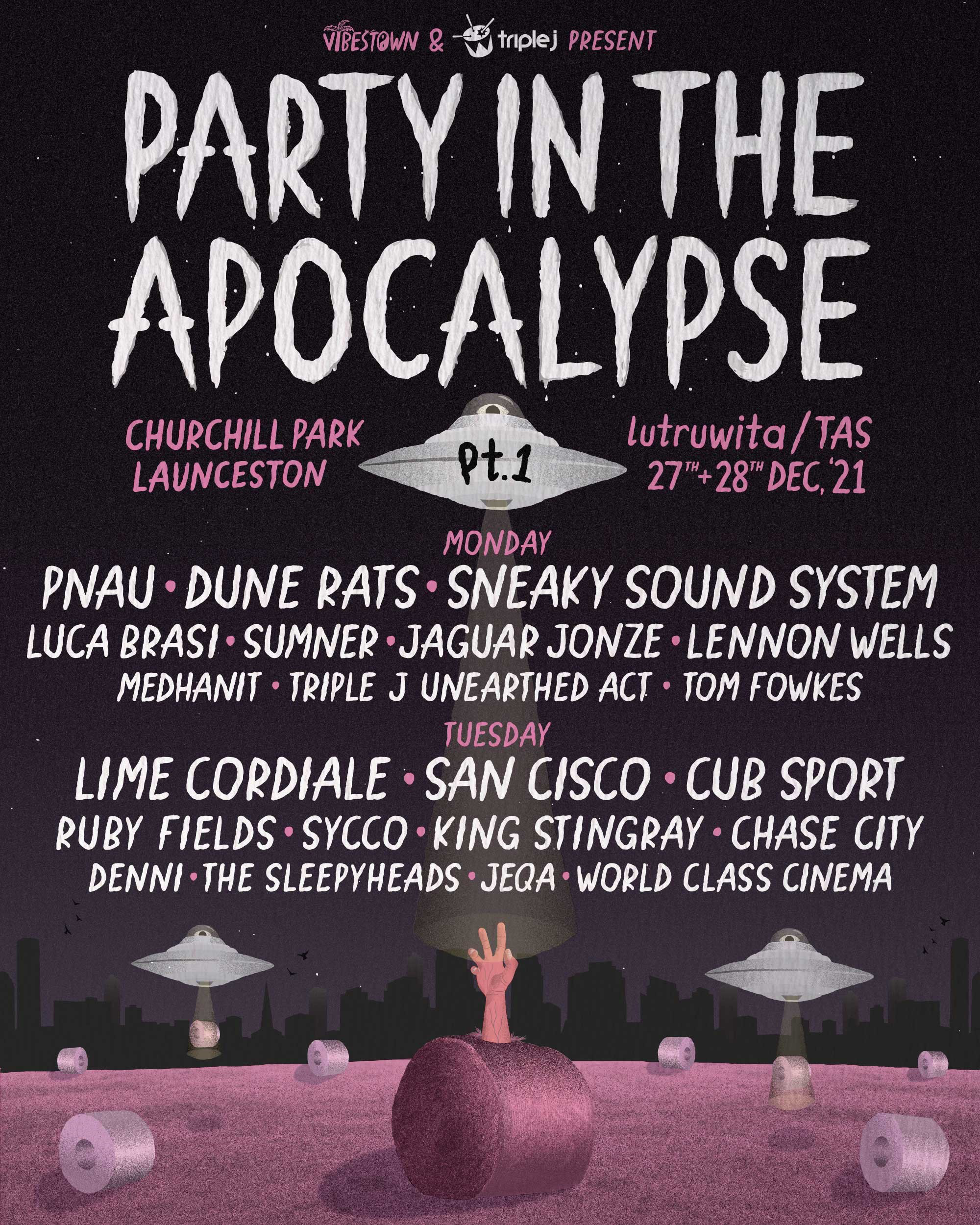 _________________________________________________
This festival is All Ages, underage patrons must be accompanied by a Parent/Guardian or by a responsible adult over the age of 21 at all times (must arrive at the gate together).
Party in the Apocalypse Pt.1 is a fully licensed event.
For all FAQ's please click here
Full Ticketing Terms & Conditions below.
This event will comply with all Covid-19 restrictions in Tasmania. Due to the changing nature of restrictions at the moment further details will be released at a later date. Be prepared to abide any precautions necessary. Restrictions may include BYO seats, zones, mandatory mask-wearing, designated dancing areas and some restrcitons on standing/drinking.

_________________________________________________
VIBESTOWN & PITA Pt.1 TERMS AND CONDITIONS OF SALE
If the event is unable to proceed on the advertised date or location by Government order, control measure, border closure or other such measure, Vibestown reserves the right to reschedule the event, and offer a credit or exchange to the rescheduled date rather than a refund. Any ticket holder requesting a refund will be provided a refund less transaction/handling/booking fees or delivery charges.
This is an all-weather event. No refunds will be made if you choose not to attend due to inclement weather
Day and Weekend Wristbands MUST be kept on for the duration of when the wristband is valid, if your wristband is cut off or lost, it cannot be replaced. Treat it like you would your ticket.
Refunds or exchange on any ticket will not be given or service fee except in accordance with the applicable Australian Consumer Law.
We reserve the right to charge a fee for the replacement of lost, destroyed or stolen tickets. Please treat your ticket as you would money or other valuables
A multiple day ticket is a multiple day ticket for the use of one person and cannot be shared. You will be issued a wristband in exchange for your valid ticket at the gate
There will be no refund on any unused portion of tickets if you or your invitees are asked or forced to leave or if you decide not to attend any part of the event.
OZTIX TERMS AND CONDITIONS OF SALE
Who you are buying from
This web site and the web site oztix.com.au (the "Oztix Website") are owned and operated by Ticket Solutions Pty Ltd (ACN 106907206) t/as Oztix of PO Box 476, Annerley, 4103, Queensland, Australia ( 'We', 'Our' or 'Us'). We operate the ticketing services offered via this website as the authorised agent of event organisers, such as artists, venues or event promoters ('Presenter') and any tickets purchased from this website are purchased from Us as the agent of the Presenter. Any dispute you have relating to an event or ticket purchase is between you and the Presenter.
As agent for the Presenter, We are not liable for any claims relating to an event or ticket purchase, except as otherwise set out in these terms and conditions.
What you are agreeing to
1. By visiting, using or purchasing any tickets via this website you agree to be bound by these Terms and Conditions and Our Privacy Policy.
2. Every ticket sold through Oztix is also subject to: - the Presenter's term and conditions (please see the Presenter's website); - any terms and conditions of the venue at which event is held (please see the venue's website); and - any terms and conditions that may be printed on the ticket.
3. The Presenter reserves the right to add, withdraw, reschedule or substitute artists and/or vary programs, prices, venues, seating arrangements and audience capacity.
Use of the Oztix Website
4. Use of this site is restricted to personal use and reference only.
Conditions of Sale
5. All Prices quoted are in Australian Dollars and include local taxes (GST).
6. Online sales will cease when the allocation of tickets is sold, at a time otherwise specified by Presenter or usually 2 hours before doors open for the event.
7. Both Oztix and the Presenter reserve the right not to sell tickets to any person, agent or company.
8. Tickets will be delivered to you by the method you select during the booking process. If tickets are sent using Registered Post or a Courier service they will only be sent to addresses where the purchaser can sign for delivery. Mail delivery option will cease to be offered 7~10 days before the event.
9. Tickets may not, without the prior consent of the Presenter, be resold or offered for resale at a premium over the face value of the ticket (including via on-line auction sites) or used for advertising, promoting or other commercial purposes (including competitions and trade promotions) or to enhance the demand for other goods or services either by the original purchaser or any subsequent ticket holder.
10. On occasion there may be an error in the advertised price of a ticket made available for sale via the Oztix system caused by human error or a technical error. Regardless of the reason for the error, Oztix reserves the right to immediately cancel any ticket sold or offered for sale for the wrong price. If Oztix cancels a ticket for because of an error, we will refund you the amount paid for that ticket and we will endeavour to offer a replacement ticket of same or similar quality at the correct price but we cannot guarantee such a replacement.
11. Notwithstanding these terms and conditions, if You use a "disposable" or "temporary" credit card (such as those purchased over the counter at supermarkets) for Your online purchase We are not able to make any refund to you unless
a) you can provide full details of the credit card;
b) the credit card remains valid; and
c) you can produce the online purchase receipt.
Note: your Credit Card statement will itemise a purchase as a charge from "Ticket Solutions Oztix Indooroopilly".
Refunds and exchanges
12. Oztix act as agent for the Presenter, and as such, we can only refund tickets in accordance with the Presenter's terms and conditions, and to the extent permitted by law, Oztix has no liability to you.
13. We do not replace any lost, stolen or destroyed tickets or exchange or substitute tickets after purchase, except in limited circumstances. We reserve the right to charge you a reasonable fee for the replacement of tickets. Please treat your tickets like cash, as we cannot replace lost tickets.
14. The Presenter reserves the right to alter the date, the venue and the entertainment and activities as advertised, without prior notice to you. Your entitlement to a refund in such circumstances is determined by the Presenter. Please contact Oztix directly first in order to determine your eligibility for a refund.
15. If the date, time or venue of an event is rescheduled or changed, your ticket will remain valid for the rescheduled date, time and venue.
16. If the Presenter authorises a Refund, We will refund to you the ticket price.
17. Refund of Booking fees, delivery, postage fees may be refunded, depending on the Presenter and the reason for the refund.
18. Any refund payable can only be made back to the credit card (whether temporary or otherwise) used in the original transaction.
19. Oztix will post any relevant information regarding any cancelled or rescheduled events in the news section of www.oztix.com.au, when applicable. It is Your responsibility to check our website for information in relation to any events.
No Show / Failure to collect tickets / Delivery fulfilment
20. We fulfil Our commitment to you for the sale of tickets by either mailing or emailing the ticket to you, or by making the ticket available at the door or Box Office for you to collect.
21. If you have elected to receive the tickets by mail or email and have not received your ticket(s) within 48 hours of the event, please contact Oztix.
VIP Packages
22. Oztix sells tickets coupled with other offerings from Promoters such as VIP experiences, music, merchandise etc.(So called "Bundled Sales").
Oztix cannot be held liable or responsible for the non-delivery of any goods or services that have been Bundled with Tickets as we have no oversight over how the fulfilment or delivery of Bundled Sales are managed. It is a condition of sale that all claims about non-delivery of Bundled Sales must be taken up direct with the Promoter. Please contact us for the Promoters details in this instance.
Pay Over Time Payment Option
23. In some circumstances you may be able to pay for your ticket over time, in instalments. If both parties agree to this payment option, You agree that We can charge your credit card a deposit, a booking fee (if any) and the number of specified instalments prior to sending you a confirmed ticket.
24. You agree that you only have a reservation for a ticket and are not entitled to a ticket to the relevant event until full payment of the ticket and associated fees is made.
25. If your credit card details change prior to your payment of any instalment, you agree to contact Us to update your credit card details.
26. You agree that if, for any reason, We are not able to process any of the instalments on their due date, your reservation for the ticket will be cancelled and your deposit and any booking fee paid forfeited by you.
27. We agree to repay any instalment (other than the deposit and any booking fee) you have paid to Us to the credit card you specified at the time of selecting the pay over time option, provided that credit card remains valid.
Resale
28. Oztix may offer a ticket resale facility for a specific event. This will allow you to offer for sale your unwanted tickets or to buy unwanted tickets from other customers for such an specific event. Oztix reserves the right to charge a resale fee for facilitating such a sale.
29. Oztix will use it's best endeavours to verify the validity of each ticket offered for sale but Oztix makes no guarantee that all tickets offered on the Oztix resale facility are valid. We advise you that as a buyer you should be aware of the risks. If your tickets purchased from the resale facility prove to be invalid Oztix's liability is limited to refunding you the resale facility charge.
Changes to Terms and Conditions
30. The terms and conditions that apply to any particular transaction will be the published terms and conditions at the time the transaction was finalised. Subject to the preceding sentence, we or the Presenter may alter or change the terms and conditions as they appear on our website from time to time effective immediately from posting on the web site.
31. You should periodically check this page of the Oztix web site and the Presenters web site to ensure that you are aware of the latest terms and conditions.
What happens if you have an inquiry or complaint?
32. For inquiries or complaints regarding the sale and delivery of tickets please contact us by email at info@oztix.com.au or telephone 1300 762 545.
33. For inquiries or complaints regarding the staff and / or amenities at a venue or event, please contact the venue management.
34. For inquiries or complaints regarding the artist's performance, sound or lighting or production quality, please contact the Presenter.
Data Security
35. When We process your order We collect your credit card and personal information in accordance with Our Terms and Conditions, our Privacy Policy and our Privacy Collection Notice.
36. If you are concerned about using your credit card online please contact us for assistance.
37. If you deny or dispute a charge on your credit card made by us, please contact us immediately. We consider credit card fraud to be a serious offence and we aim to prosecute each case to the fullest extent possible.
Copyright and Trademark
38. The images, text, logos and artwork contained within this site are copyright to Oztix and/or the relevant licensors. All rights are reserved. Unauthorised use by way of copying, storage, reproduction, publishing electronically or otherwise transmitting in any form or by any means in whole or in part is prohibited. The Oztix logo is a registered trademark.
Disclaimer and liability
39. You accept that the Internet is not always a reliable and that system outages may occur.
40. Save to the extent set out in the Competition and Consumer Act 2012 (Cth) (including the consumer guarantees under Australian Consumer Law) or otherwise permitted by law, We will not be liable for any damages direct, incidental, consequential or otherwise, loss or corruption of data, loss of profits, goodwill, bargain or opportunity or loss of anticipated savings resulting from your purchase of any tickets or your access to, or use of, or inability to use the web site and its content, whether based in contract, tort, negligence, statute or any other legal theory, and whether or not We know of the possibility of such damage.
Choice of Law
41. These Terms and Conditions shall be governed by the laws of the State of Queensland, Australia but legal proceedings may be commenced in any Australian State or Territory.
Australian Consumer Law
42. Our goods and services come with consumer guarantees that cannot be excluded under Australian Consumer Law. Those consumer guarantees apply in addition to any other express warranties which we provide under this Agreement. You are entitled to a replacement or refund for a major failure and for compensation for any other reasonably foreseeable loss or damage.