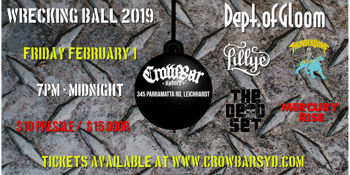 Wrecking Ball & Crowbar Sydney
WRECKING BALL
Dept of Gloom, Thunderdome, The Dead Set, Mercury Rise & Lillye
Crowbar Sydney (Leichhardt, NSW)
Friday, 1 February 2019 7:00 pm
The Wrecking Ball is all about showcasing local, original, LOUD & HEAVY bands from Sydney.
Headed up by the Diabolical glam melodies and modern vintage mayhem of...
Dept.of Gloom
, the second installment of the Wrecking Ball will be held at the Crowbar Sydney (ex-Bald Faced Stag).
Also featuring the powerful, female-fronted, bastard child of Led Zeppelin and Heart, the one and only...
Lillye
, Metal Comedy RAWK GODS...
ThunderDome
, the hard rockin' trio direct from the depths of hell...
The Dead Set
, and the hard hitting, high energy, Marshall-fueled rock 'n roll of...
Mercury Rise
.
If you like it loud and local, do NOT miss this one folks!!! Support local original rock n roll. Get yourselves and 100 mates down to the Crowie
on Friday
Feb 1!
FRIDAY 1ST FEBRUARY
Doors 7PM
CROWBAR SYDNEY 18+