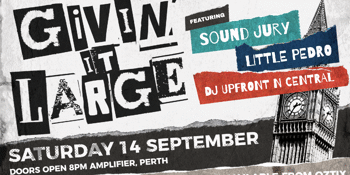 Givin' it Large
with Sound Jury, Little Pedro & DJ Upfront n Central
Amplifier Bar (Perth, WA)
Saturday, 14 September 2019 8:00 pm
Givin' It Large at The Amplifier is a celebration of Ska and British Music featuring local SKA favourites and instant party band Little Pedro playing the best of Two Tone and 2nd & 3rd wave Ska.

Sound Jury with their cracking Brit Pop 70s, 80s and 90s set to open the night.

Plus DJ Upfront and Central with his wicked UK collection.