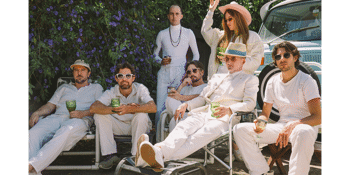 Palais-Hepburn & Winter Sounds present
Winter Sounds - Afternoon JAZZ PARTY
Palais - Hepburn (Hepburn Springs, VIC)
Sunday, 17 July 2022 12:30 pm
⚜️Tickets: $35 Door: $40
⚜️Lunch & Pre Show: 12:30pm & 1 pm sittings. 3 course, Modern Australian Cuisine: $115. Limited Tickets available, Dietary requirements to be sent to info@palais-hepburn.com
⚜️Doors open: 12:30pm. Jazz Party: 2:30pm
⚜️Lunch times Pre show: 12:30pm, 1pm.
New Orleans meets Twin Peaks
Somewhere between holy and heinous
Late nights, flickering neon, blue smoke and beer fuelled dance freak-outs over a gravely wailing saxophone - think New Orleans processionals meets Twin Peaks. This is Jazz Party. Melbourne's Monday night secret society led by former saxophonist and songwriter of Clairy Browne & The Bangin Rackettes Darcy McNulty and supreme diva and ex-Rackette Loretta Miller.
Prepare yourselves for a slippery mix of jump blues, boogie, and rhythm n blues á la New Orleans.
PALAIS-HEPBURN
The refurbished Palais-Hepburn is one of Country Victoria's finest venues. Located in Hepburn Springs/Daylesford. Providing superb new dining in our Salon and Cocktail Bar, along with a variety of music and entertainment. Refined art deco interiors with sophisticated glamour, including outstanding sound system, lighting for the artists to play a huge variety of music styles including Jazz, Soul, Funk, RnB, Rock, Folk, Country, Soul, Pop, Alternative, Classical, World music. Keep an eye out for our annual festivals and events.
OUR DINING EXPERIENCE
Aside from entertainment, an evening at the Palais-Hepburn entails fine dining, sophisticated cocktails and boutique wines. We offer three-course dinner & show packages, which guarantees a table and seating. Bar Food menu will be available on the night. Our Modern Australian menu showcases only the best locally sourced ingredients guaranteed to delight your taste buds.
CONNECT WITH US
Follow us on Facebook.