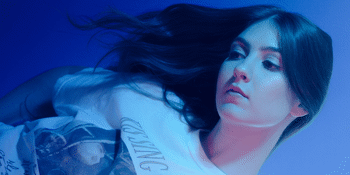 Mistletone Presents
Weyes Blood
+ Special Guests TBC
Odeon Theatre (Hobart, TAS)
Wednesday, 4 March 2020 7:00 pm
Mistletone proudly presents Weyes Blood, performing songs from her critically acclaimed album Titanic Rising in her Tasmanian debut performance at Hobart's Odeon Theatre on 4 March 2020.
It's been three years since Weyes Blood stepped foot in Australia, and a lot has changed. After signing a worldwide record deal with Sub Pop, Natalie Mering (Weyes Blood) disappeared from the road to write and record her next album. The result, Titanic Rising, is Weyes Blood's most stunning achievement to date and has received sweeping critical acclaim.
MOJO ★★★★★ The Independent ★★★★★ Rolling Stone ★★★★ Record Collector ★★★★★
The Guardian ★★★★ The Times ★★★★ Q ★★★★ NME ★★★★ Evening Standard ★★★★
Pitchfork "Best New Music" Uncut 9/10 PASTE 9.1/10 The Line Of Best Fit 9.5/10
The live show is also spectacular, currently stunning crowds all over North American and Europe. Playing sold out venues in both continents, Weyes Blood has elevated her live show since her last trip to Australia and will be bringing her full five-piece band. Adorned in a tailored white suit, Weyes Blood is eager to return to the southern hemisphere.
"A set somewhere between alien and angel, an ornate, cosmic tangle of Laurel Canyon wistfulness and her rich, velvety voice" - ACL Live
"Stirring yet serene. Joyous yet plaintive. Ethereal yet earthy. Optimistic yet doom-laden. Soft-spoken yet golden-voiced. Natalie Mering, aka Weyes Blood, is a bundle of contradictions, a spirit of balance. Her voice is a shining beacon that breaks through the melancholic fog that shrouds her poppy arrangements" - Northern Transmissions"