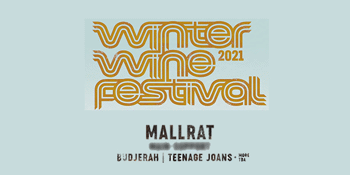 Crooked River Wines & Uncle Joes Brew presents
MALLRAT- Winter Wine Festival - Sun 13th June
with Budjerah & Teenage Joans
Crooked River Wines (Gerringong , NSW)
Sunday, 13 June 2021 11:00 am
Once again, the largest winery on the South Coast will be hosting our annual Winter Wine Festival. Celebrating 23 years in business and 18 years since hosting our very first Winter Wine experience in Gerringong at our family estate. This year we will be showcasing some of the best local sustainable South Coast produce, including our beautiful selection of hand made quality wines.
We here at Crooked River Wines would like to thank our entire community for their continuous support throughout the difficult year that is 2020. From the drought to the bushfires that brought havoc in 2020 to entire South Coast, and now COVID19. We have been amazed with how everyone has come together in support throughout our beautiful region of the South Coast & beyond.
Sunday June 13 (all ages)
HEADLINE ACT - Mallrat
SUPPORT ACTS - Budjerah, Teenage Joan's & many more soon to be announced
Here is a little of what you'll enjoy at this year's event:
AMAZING Live Music
Numerous Food Stalls & Food trucks
BBQ Smoker & Gourmet Burgers
Local Sustainable South Coast Food Produce Stalls
VIP Canapé & Premium Wine Service (additional fees apply)
Uncle Joe's Craft Beer (plenty of our famous alcoholic ginger beer)
"Clyde" The Chevy Keg @clydebyunclejoesbrew
Local Home Grown Wines By Crooked River Wines!
VIP tickets (18+ only)
Each VIP ticket includes:
1 x VIP ticket
Access to private VIP area
Access to private bars
Canapés from our award winning restaurant from 1pm-3pm
1 x complimentary drink on arrival (T&C apply)
Premium selections of wines for VIP only
Private bathrooms for VIP guests only
Complimentary VIP parking
EVENT INFORMATION
Getting to the Winter Wine Festival
We strongly recommend getting public transport or taxi to the event. Onsite parking is EXTREMELY limited. Various car parking areas around the venue may include a 15-20 minute walk (on uneven, hilly & grassed surfaces). There are also local private bus companies running shuttles to the event from Gerringong & Kiama. A small cash charge will be incurred for this service, to which is provided by external parties & not Crooked River Wines.
Leave Behind
Food - numerous gourmet food trucks will be present on both days. Handmade & picked cheese platters by CRW will also be available for purchase
Drinks (including alcohol)
Illicit drugs - bag checks and drug detection will be present during the whole weekend event
Glass
Any large unnecessary items
Video or audio recorders
Please Bring
Picnic blanket - please ensure you consider your festival neighbours and those around you
Low foldable chairs - should it be necessary, please ensure your foldable chair is low to the ground. These will only be permitted on the boundaries of the grassed hill
Sunscreen & warm clothing - we get all sorts of beautiful weather on the South Coast so please come prepared (including wet weather gear)
Great vibes & dancing shoes - we want nothing better than for all of our guests to have a great, memorable time at our event. Whilst you're bringing the good vibes please ensure you act responsibly and be considerate to other guests. CRW will not tolerate inappropriate language or bad and abusive behaviour. CRW has a strict Responsible Service of Alcohol policy and has the right to refuse entry or service of alcohol
Covid Safe
We will be ensuring that all guests and staff are adhering to the recommended precautions for a safe covid-19 event
Please keep your distance from other guests and use hand sanitizers provided throughout the venue
Please also ensure that if you are feeling unwell, have the slightest symptoms or have recently travelled to direct or surrounding areas that have been recently affected by COVID19 we simply ask that you do not attend and do your bit to protect the community
Temperature checks will be conducted upon entry and we recommend the use of approved face masks
Hashtag
Crooked River Wines would love to see how you're enjoying your day. Please remember to
tag us #crookedriverwines #winterwinefestival2021 @crookedriverwines