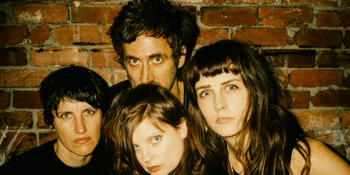 Tropical Fu*k Storm
with Pinch Points and All The Weathers
Solbar (Maroochydore, QLD)
Sunday, 6 October 2019 7:00 PM
"It all spewed out like a sewer disjointed noise pollution … I want my money back. It was so unpleasant this is the worst live band I have ever seen in my life, pretentious, abysmally sordid, amateurishly
played and above all, wrong." Marnie (William) Marndukes TFS Internet Troll
"Fans of Shit-boring, macho, square music beware. These Aussies are here to freak up your Saturday Night." Q Magazine
"Tropical Fuck Storm is a torrid, messy, thoroughly irreverent and acidly funny project." The Quietus

After spending the past year pulverizing the world with their stupefying live performances, Tropical Fu*k Storm return home to tour their new album Braindrops and put the Antipodean public to the
sword! Braindrops, the follow up to 2018's epic odyssey, A Laughing Death In Meatspace, will be released on Flightless Records on 23rd August 2019.
It's really good.
Joining them on the entire glorious quest will be Hobart's bonkers meteorologists All The Weathers whose new record For The Worms is better than everyone else's.
On the first half of this shining path TFS will also have Melbourne's Pinch Points along. They are the best thing since beer was invented 5500 years ago in the Zagros Mountains in what is now Iran.
On the second half of their popularity pilgrimage TFS will be joined by Brooklyn's noble-minded mental patients Surfbort and although they have nothing to do with Iran or anywhere like that, they will be
sticking a hardcore punk rocket up Australia's collective Khyber Pass.
You can pre order your very own personal copy of Braindrops now from… Listen to their latest banga' Paradise, watch the clip for The Planet Of Straw Men.