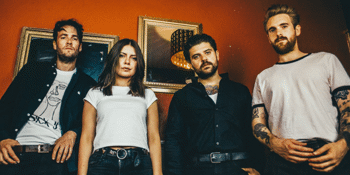 Hearts Mgmt, Little Mgmt & Select Music present
Pagan – The Night Before
with Totally Unicorn, In Trenches
The Workers Club (Fitzroy, VIC)
Friday, 21 February 2020 8:00 PM
Due to overwhelming demand, Pagan have announced a prequel to their sold out 'The Last Waltz' with an extra show 'The Night Before...' for all cult members who missed out on tickets to the final show or for those who simply want to party twice as hard in memoriam.

To blow a farewell kiss to seven years of wild shows, wilder partying, a relentless national and international touring schedule and countless fine dining, the band will hang the neon crucifix and burn through a setlist comprised of numbers from their critically acclaimed 2018 full-length, Black Wash, as well as some older cult classics from Pagan's golden years.

The Workers Club will play host to this very special evening with very special guests to be announced soon.

Tickets on sale now. They will disappear. Don't miss out twice!