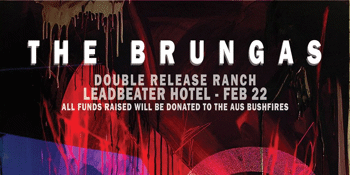 The Brungas - Double Release Ranch
TBA
The Leadbeater Hotel (Richmond, VIC)
Saturday, 22 February 2020 8:00 pm
Out of Melbourne, alt-rock 7-piece.
Likened to DMAs, Oasis and The Smiths, The Brungas offer a sun drenched soundscape packed with shimmering guitars, and honest and iconic lyricism. Tied together with animated live performances, The Brungas are the ultimate live show.
Off the back of a huge and busy 2019, The Brungas are bringing their insatiable live show to The Leadbeater Hotel for their first headline show of the year.

Previous releases have been supported by Spotify editorial playlists, Carlton football club, triple j Unearthed, RRR, SYN and Casey Beat, as well as a host of other community radio stations. They have also garnered online support via Beat Magazine and Farrago, as well as a slew of other respected publications.