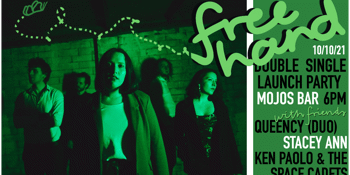 Freehand's Double Single Launch.
Special Guests Stacey Ann, Queency, Ken Paolo & The Space Cadets
Mojo's Bar (North Fremantle, WA)
Sunday, 10 October 2021 6:00 PM
Freehand is excited to finally launch their sophomore singles, 'It's Not Over' and 'Hunger Strike'. The joint single release has been a year in the making and broadens Freehand's horizons in both directions, coming to life with a neo-soul infused bop ('It's Not Over') and an emotional slow build with gut-wrenching lyrics ('Hunger Strike'). They bring their fresh release to Mojos Bar on 10th October for a big soulful party!

Supported by:
❋ Ken Paolo & The Space Cadets
❋ Stacey Ann Band
❋ Queency (duo)

Freehand is an energetic and uplifting 8-piece soul outfit based in Perth Hills, Western Australia. Brought to life by singer/songwriter Gem Addison, the collection of creative songwriters and composers bring audiences to their feet through elements of pop and neo-soul, colourful harmonies, and a unique warm stage presence. After a highlight performance before 10,000 climate strikers in 2019, Freehand's earnest and dynamic set has been steadily gaining momentum in Perth's scene. The group has an eye and passion for community, and will unequivocally bring you home with a smile.

Percentage of merch sales go towards Butterfly Foundation.