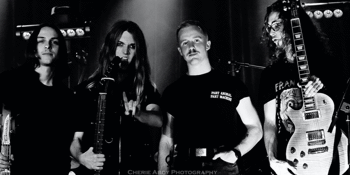 The Witching Hour "Sleeping with The Stars" Single Launch
The Stag & Hunter Hotel (Mayfield, NSW)
Friday, 25 September 2020 7:00 pm
The Witching Hour was born, all in their mid-teens the founding members comprising of Bassist Bradley Hughes, a multi Instrumentalists and dedicated young musician teamed up with Drummer Bailey Graeber from Newcastle, a reincarnated 'Keith Moon'. Together they were committed to forming a band based on their shared passion for old school rock. They began jamming in the garage and their search for the right Vocalist came with a suggestion from a friend about a 16 year old kid named Taime Marsh from Shellharbour, another isolated town on the South Coast of NSW. Taime also shared the same musical direction and was already a seasoned Vocalist coming from a family legacy of professional musicans, he also just happened to be a great Songwriter and a serious young Guitarist as well.
With the band's debut single, 'Lay You Down' reaching No. 1 on the Triple J unearthed charts, the band upped the ante and welcomed new member Kyle Fardell, a quirky young Guitarist from Orange. (An even more remote, rural NSW town). He joined Taime to form a formidable driving guitar team.
At this stage, the band realising that something special had come to fruition, they began taking their music around Australia.
Following the release of two more singles, 'Under My Skin' and 'The Ritual' the band again topped the charts with both tracks on Triple J Unearthed. With three consecutive No.1's within 12 months, The Witching Hour ranked 11th most played on Triple J unearthed 2019.
In March 2020 a major tour had commenced when Covid19 abruptly changed everything.
In August 2020 the band will be rescheduling their tour and in support they will be releasing their fourth single "Sleep with the Stars". The release will kick off in Newcastle, NSW and will be simulcast worldwide by Australian Live Streaming Company Blind Chihuahua.