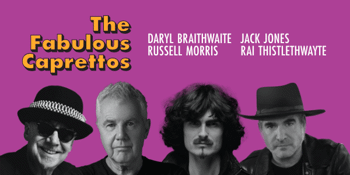 The Fabulous Caprettos
Daryl Braithwaite, Russell Morris, Jack Jones & Rai Thistlethwayte
The Fabulous Caprettos are Daryl Braithwaite, Russell Morris, Jack Jones & Rai Thistlethwayte
Mansfield Tavern (Mansfield, QLD)
Saturday, 22 January 2022 7:30 pm
Australia's Sensational New Band The Fabulous Caprettos
Daryl Braithwaite, Russell Morris, Jack Jones, Rai Thistlethwayte.
Friends coming together to perform for the first time with a fabulous band.
This performance will be something special as the audience can see & hear all artists performing together on stage for the entire duration of the concert. They will perform their hits/favourites & songs that will only be heard for the first time at these shows….
DARYL BRAITHWAITE
Right now Daryl Braithwaite is showing no signs of slowing down. Always a fine interpreter of songs, singer/front man/songwriter from his early days with 70's supergroup SHERBET to his highly successful solo career today..
RUSSELL MORRIS
The past 7 years have been an incredible musical journey for both Russell and his fans, fortunate enough to create and release three award winning albums of blues and roots music & the top ten 2019 new Black & Blue Heart album.
JACK JONES
Jack was still a teenager when he found fame in Southern Sons. Southern Sons went on to become one of the most loved Australian bands of the '90s, with hits such as 'Heart In Danger', 'Hold Me In Your Arms', 'You Were There', 'Always And Ever', One of Australia's most talented singers/songwriters and guitarists.
RAI THISTLETHWAYTE
Founding member and singer songwriter for Thirsty Merc After over a decade of making music, Rai is still as thirsty as ever. Creating & performing a swag of his classic tracks such as "20 Good Reasons", "Someday Someday", "Mousetrap Heart" and "In The Summertime."