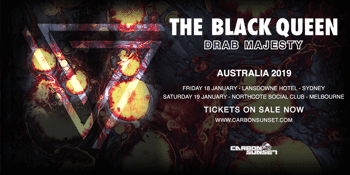 Carbon Sunset presents
The Black Queen (USA) with Drab Majesty (USA)
Lansdowne Hotel (Chippendale, NSW)
Friday, 18 January 2019 8:00 PM
For Los Angeles' The Black Queen, the depths of isolation and loss have always functioned as a gateway to being born anew. Much has transpired since the band released their cold, cutting debut album Fever Daydream (a record that Revolver described as "a haunting exploration of the darker side of pop music"). But throughout it all, the trio of Greg Puciato (former frontman of the now-defunct The Dillinger Escape Plan), Joshua Eustis (of Telefon Tel Aviv, Puscifer, and Nine Inch Nails), and Steven Alexander (a tech member for Nine Inch Nails, Ke$ha, and A Perfect Circle) have emerged as triumphant and intense as ever, documenting their journey via the synth-streaked industrial anthems of their sophomore release, Infinite Games.
Formed in 2011 after a chance meeting between Puciato and Eustis backstage at a Dillinger show in which they both realized they were huge fans of each other's work, The Black Queen became a labor of love for its members to explore sounds and emotions that they couldn't quite fit into their full-time projects. Injecting a pained, twilit edge into slick new-wave tracks as fit for the dance floor as they are for some imagined dystopian skyline, the trio have managed to channel their scattered, eclectic influences into a surprisingly cohesive vision. "We've got a pretty weird cross section," Puciato says of the band's musical chemistry. "We can go out for food and listen to Power Trip on the way there, then Baltimore club music on the way back, and then talk about how killer Maxwell's Embrya album was, and then get sidetracked and talk about the Celeste video game soundtrack, then all have to be quiet so that we can grab a voice recording of some weird sounding radio interference. It's all over the place and unusually far reaching, and there's a lot of passion for discovery."
After releasing their debut album Fever Daydream to critical acclaim however, the trio underwent several major upheavals that cast the project in a completely new light. Puciato's main project The Dillinger Escape Plan disbanded. Chris Cornell of Soundgarden killed himself while Puciato was on tour with him. Eustis put out music under his beloved Telefon Tel Aviv moniker for the first time since his former bandmate Charles Cooper died in 2009. The trio's storage space was robbed. Puciato suffered a relapse into crippling anxiety and paranoia. Once again, in the face of tragedy, The Black Queen had to rebuild everything from the ground up.
The first step was acquiring a new studio space, which immensely helped the band get back into the rhythm of freely collaborating with one another, and experimenting with sounds for as long (and as loud) as they wanted. The resulting album, Infinite Games, marks a massive leap forward for The Black Queen. Not only are the band's icy R&B instincts more sharply pronounced; they've also rendered their morbid electronics in more lush detail than ever before, filling out the corners of their songs with chilling ambient passages that create a wide-screen backdrop for Puciato's eerie, tortured vocals. "I think this album is actually hookier, but more insidious in that it reveals itself over time," Puciato says about Infinite Games. His choice of words says something about the album's creeping, pitch-black approach to pop music.

With this release, the group have also announced a new undertaking in the form of their new label, Federal Prisoner. Resisting the more marketing-centric approach that feels standard at this point for the record label game, the goal of Federal Prisoner is to provide an outlet for projects that emerge naturally from The Black Queen's own creative endeavors and collaborations with other artists. In a way, Federal Prisoner solidifies TBQ's commitment to creating music on their own terms, following the same organic sense of inspiration that led them to forming in the first place. As Puciato puts it, "It's just an expression of passion and individualism in a way that opens more doors for us to create and to own what we create with minimal compromise. It's as much an act of refusal as it is a statement of intent."
Infinite Games, the second album from experimental Los Angeles synth-pop trio The Black Queen, comes out on September 28th. Catch their first ever live appearances in Australia this January with LA darkwave/post-punk act Drab Majesty also coming along for the ride.

www.carbonsunset.com