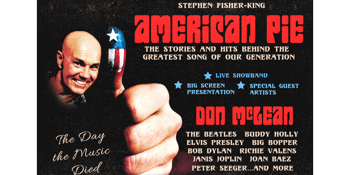 American Pie - The Story
Centro CBD (Wollongong, NSW)
Friday, 11 June 2021 6:30 pm
A long, long time ago there was American Pie. Now, multi-award winning entertainer Stephen Fisher-King brings to life one of the most iconic songs of our generation. Drawing on his musical theatre roots, Stephen takes the audience back to the day the music died as he tells the story of our greatest modern poet Don McLean, and how at just 26 years old, McLean came to write his parable for 1970s USA- a song that's been broadcast on the airways more than five million times!

'The American Pie Story' features Don McLean's greatest hits, including Vincent, And I Love You So, Castles in the Air, and of course, American Pie. Woven throughout the show are the stories and theories behind Don McLean's iconic song, including the music that 'touched him deep inside', with favourites from Elvis, Buddy Holly and Bob Dylan (the jester on the sideline in a cast), bringing to life the music that used to make him smile. Because he knew, if he had his chance, he could make those people dance.

This fully-scripted show is more than a tribute and more than a biopic, it's a great story, with great music, presented by a great entertainer.