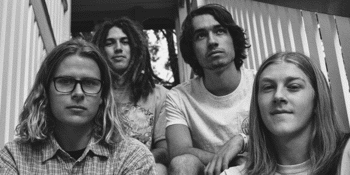 GLASSHOUSE
with special guests Regular band, Hot Reno and Honeygum
The Zoo (Fortitude Valley, QLD)
Friday, 21 June 2019 7:00 PM
Birthed out of their EP release "plastic" in June 2018. Sunshine Coast four piece, glasshouse offer a new refreshing taste to late 80's/90's alt-rock nostalgia.
2019 brings new music for the young band, and they're excited to be playing some of there biggest headline shows to date, this time in support of there latest single "hello"
"If plastic is the band showing they understand the balance between melancholy and angst that goes into grunge, 'hello' is the band showing they understand what to do with this balance." - Nick McDonald (backyard opera)
Supports from:
Regular Band
(Single Launch for "Snow White")
Regular Band are a pretty punk, pretty grunge and pretty loud Nirvana-esque alt-rock three piece forged from the safest, most boring suburbs in Brisbane city, Australia.
With thunderous drums, driving guitars and roaring, thought provoking melodies; Regular Bands unique sound and live show*, create a connection with their audience that is endearing and are bound to get stuck in your head for years to come
Hot Reno
'Quickly jumping into the local scene in late 2017, Hot Reno take the stage serving up some solid hard hitting raw and heavy riffs along with heartfelt lyrics and dynamics. Hot Reno have been non stop since their debut gig, playing shows in Brisbane and the South East leading up to their new EP 'Stab in the Dark'. (22/03/2019). With punk rock and alternative influences, they have put together some fine original material for their quickly growing fan base'.
Honey Gum
Hailing from the home of bangin bands that is the sunny Gold Coast, HONEYGUM are an Australian indie/garage rock outfit who've been carved right out of their scenery. This trio, formed in 2017, have developed a sound that is truly their own — taking influence from garage rock, post punk and britpop styles, the group's corkscrew riffs and sandy crunch follow a rhythm section so groovy and tight that you'll wanna pay for it twice. Lyrics meddle with a "slice of life" approach and observe the sunshine state's amalgamation of club dwellers, surfers and weirdos through wit and humour