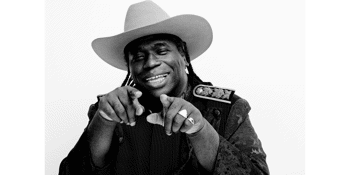 The Fyrefly
EUGENE "HIDEAWAY" BRIDGES (USA)
The Fyrefly (St Kilda, VIC)
Saturday, 2 March 2019 7:00 PM

EUGENE "HIDEAWAY" BRIDGES (USA)
The Fyrefly is pleased to present epic bluesman Eugene "Hideaway" Bridges to the stage! Nomadic by nature, Eugene has lived his life on the road and this year his travels will bring him to us.
Born in 1963 in New Orleans and raised in Amite, Louisiana, the son of Otheneil Bridges Sr, also known as blues guitarist Hideaway Slim, Eugene is the fourth child of five and at five years old, was playing with his father around Louisiana.
Eugene toured the US from coast to coast playing his Blues, Gospel and R&B recordings with The Eugene 'Hideaway' Bridges Band, travelling alone to Europe, where BB King Bassist, Big Joe Turner spotted him in Paris and offered him the position of guitarist and vocalist with Big Joe Turners Memphis Blues Caravan.
Since those early days, Eugene has toured and headlined festivals in the US, all over Europe, Singapore, New Zealand and Australia, whipping up a storm wherever he goes with his distinctive southern sound. Blues, Soul, Jump, Funk, Gospel, Rock and Roll – he's got it all covered.
In 2017 The US Jus' Blues Music Foundation announced that Eugene Hideaway Bridges was to be their 2017 honoree for the Albert King Lifetime Award, "The Lucy Award", for his outstanding contributions in continuing to keep the style of traditional Blues alive.
Inspired by this award and in memory of his bluesman father, Othineil Bridges Sr "Hideaway Slim" 1938 – 2015, Eugene went back to the music he learnt as a child sitting on the front porch, where "Hideaway Slim" showed Eugene how to play the blues and made a new album. Released earlier this year, The Eugene Hideaway Bridges Band, Live in Tallahassee was recorded in one night, one take at the historic Bradfordville Blues Club in Tallahassee, Florida, USA.
Come and hear it live, up close and personal with us!
Doors open for Dinner: 7:00 PM
The show starts: 8:30 PM

THE FYREFLY
The Fyrefly is St Kilda's superb new dining, music and entertainment room located just down the stairs at Newmarket Hotel. Creature comforts meet sophisticated glamour, with outstanding facilities for the artists to play a huge variety of music styles including jazz, soul, funk, RnB, and even comedy.
OUR DINING EXPERIENCE
Aside from entertainment, an evening at The Fyrefly entails fine dining, top-shelf hooch and classy cocktails. We offer two or three-course dinner & show packages, or you can take your pick from our A La Carte Menu. While our dishes are subject to change, our menu showcases only the best locally sourced ingredients guaranteed to delight your taste buds.
CONNECT WITH US
For the latest music news, events and more sign up for our newsletter.
Follow us on Facebook.
Learn more about The Fyrefly on our website.