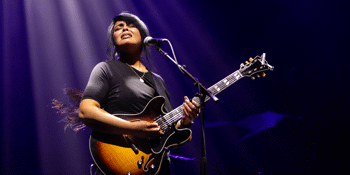 Onya Soapbox
Karen Lee Andrews
Lazybones Lounge Restaurant & Bar (Marrickville, NSW)
Sunday, 31 May 2020 6:00 PM
Karen Lee Andrews has reconnected with her guitar and produced a sound which can only be described as Oceanic Blues. This commanding Polynesian woman of soul is back!
Her sound is a distinctive blend of American Blues and Soul. Gritty guitar, lush tremolo, deep reverb in a fluid Oceanic expression.
Growing up around her mother's large Polynesian family instilled in her the role of music in bringing people together. A powerful and rich voice that carries the mood and tones of love, pain and the blues.
Andrews mostly tours as a formidable trio, teaming up with Yanya Boston on drums and Adam Ventoura on bass – two exceptional musicians. Each musician is outstanding in his or her own right, but the dynamic of the group is exhilarating to witness! The trio delivers a classic hard-hitting blues rock.
In 2019 Karen Lee Andrews has played at Woodford Folk Festival, Queenscliff Music Festival, Marysville Jazz & Blues Festival, Wollombi Music Festival, Blues at the Briars, Bello Winter Music Festival and supported Jimmy Barnes.
"Andrews is on an inspiring and passionate musical journey. A must see."
Beat Magazine
"Commanding and brilliant."
Daily Telegraph
"Soulful and bluesy, with so much heart and pain, delivered with so much class."
Sound of Oz