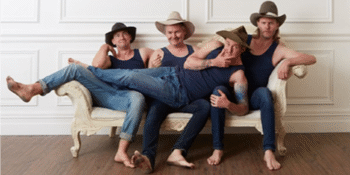 The Longyard Hotel presents
The Pigs
Longyard Hotel (Tamworth, NSW)
Friday, 25 January 2019 7:00 pm
Doors: 7pm
Show: 7.30pm

Australia's favourite bluegrass funsters The Pigs (our heroes) are known worldwide for their combination of super-catchy original tunes and foot-stomping 'Piggified' cover versions. Crashing through musical genres like a runaway tractor, the Pigs' latest album, The Great Bluegrass Swindle marries superb musicianship with a distinctly Australian sense of humour - and hints at the uniquely bent energy of The Pigs' exceedingly popular live shows.
The Pigs are a family band, never found without their trademark blue singlets and Hillbilly hats. Brothers T-Bone and Stretch Pig sing lead vocals and play acoustic guitars, with Cousin Archie Piccolo Latte Pig on double bass and Cousin Shamus beating his stand-up drum kit. Various cousins often join them on stage, adding banjo, fiddle, mandolin or accordian to the mix.
For over 10 years now, The Pigs have been stepping out onto the big festival stages around Australia, barefoot and bewildered. Meanwhile the band's YouTube Channel has seen more than 400 000 hits, with their Single Ladies video becoming something of a sensation (also seen on ABC's Spicks and Specks).
Catch them at The Longyard Hotel for 3 big shows during the 2019 Tamworth Country Music Festival.