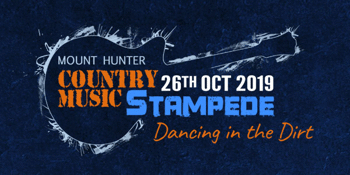 K Ranch Events presents
Mount Hunter Country Music Stampede 2019
Choir Boys, Melinda Schneider, Adam Eckersley Band
K Ranch Arena (Mount Hunter, NSW)
Saturday, 26 October 2019 9:00 AM
Gates: 9am
Artists Perform From: 11am
---

The Mount Hunter Country Music Stampede is a celebration of country life and country music. Now in its third year, the MHCMS is the brainchild of Mick Kearney, owner of K Ranch Arena – the festival site – and Drew McAlister, a winner of multiple Golden Guitars.

The debut event in 2017 was a complete success and 2019 is shaping up to be even better with the following acts leading the announcement:

CHOIRBOYS
Melinda Schneider
Adam Eckersley Band
Missy Lancaster
The Pigs
Buddy Goode
Simply Bushed
Cornell & Car

It's a blockbuster line up and there's plenty to entertain aside from the artists. Punters will have a chance to enter or witness the Steak Cook Off, a sizzling event guaranteed to fan a few flames, and go head-to-head to cook the Stampede's best steak. One mis-steak and it's all over, and the Steak Cook Off Association will be providing judges to ensure there are no T-bones of contention.

Given the success of last year's event, tickets are expected to be in high demand so take some inspiration from the Choirboys and run to paradise – now conveniently located at the K Ranch Arena.