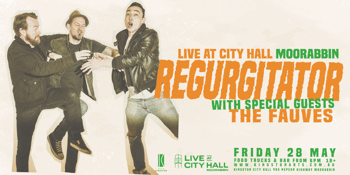 LIVE AT CITY HALL MOORABBIN presents
REGURGITATOR - Live At City Hall Moorabbin
THE FAUVES
Kingston City Hall (Moorabbin, VIC)
Saturday, 9 October 2021 6:00 pm
REGURGITATOR - Live At City Hall

One of the all time great Australian bands REGURGITATOR hit Live At City Hall with compadres THE FAUVES for a special event!

Formed in Brisbane by core members Quan Yeomans and Ben Ely, along with drummer Martin Lee, REGURGITATOR played their first show March 1994. Current drummer, Peter Kostic joining late '99. They have released numerous EPs and albums that they have recorded in dubiously idiosyncratic scenarios: Tu-Plang (1996) in the remote jungle outside Bangkok; the triple platinum selling Unit (1997) in a condemned Fortitude Valley warehouse as demolishers waited outside; ...art (1999) in a sun soaked Byron Bay beach house lapping up the waves; Eduardo & Rodriguez Wage War on T-Wrecks (2001) amidst the thick cigar smoke of (Gang of Four) Andy Gill's London lounge-room; Mishmash (2004) in a glass box in Federation Square, Melbourne as part of the disturbing Band in a Bubble parody of reality shows; Love and Paranoia (2007) in a bullet riddled studio in Rio de Janeiro under the looming rock arms of Corcovado with a gang of Brazilian sound engineers; Superhappyfuntimesfriends (2011) in Ben's old Melbourne Northcote shopfront; and (2013)'s Dirty Pop Fantasy in a Hong Kong skyscraper apartment; the more recent meta-virus HEADROXX (2018) they fabricated across the internet; and their trip into bouncing kid fun with The POGOGO SHOW's Really Really Really Really Boring Album with the ABC. In the past 25 plus years they have toured all over Australia, NZ, Japan, UK, Europe, USA, Asia and the Middle East along with numerous festival inclusions including the Big Day Out, Clokenflap, Reading, Fuji Rock, Groovin' the Moo, The Falls, Meredith etc. Always drawn to the odd they collaborated with dance choreographer Gavin Webber on the live music/dance project 'Rock Show'; performed a self-written live soundtrack to Japanese film AKIRA at the Sydney Opera House; reproduced the debut Velvet Underground album inconjunction with a Chinese collaborator, and of course locked themselves in a music filled biosphere in Melbourne's Federation Square for 3 weeks like live exhibits… among other weird trips down the light fantastic. Still touring and flooring it… more than ever they find themselves extending the vitality of their live performances, continuing to infuse them with exuberance, mania and their mashedup motion of rock, punk, electro, funk, pop, whereever it goes vibes.

THE FAUVES: More than one in five Australians die of heart disease, which means that one member of the Fauves can expect to expire while clutching his chest in surprised disappointment. Indifferent bystanders watch on while thwarted paramedics minister resignedly to the stricken musician, reflecting on the irony of the title of the band's 12th album - DRIVEWAY HEART ATTACK
"He's trying to say something", says a passer-by, crouching down and pressing a solicitous ear to the dying man's parched lips. Most of the assembled have begun to drift away, but several ghoulish onlookers remain.
"He said that he's in the band".
Explorers who didn't find anything, the Fauves have ranged the Australian landscape for 31 years, searching fruitlessly for an inland sea where a weary middle-aged man might erect a deckchair and take the healing waters. They have released albums that have slipped down the backs of couches, been lost in the wash and left on the back seats of taxis. Long have journalists issued pro-forma three-star reviews before repairing to the second-hand music store to greedily hock their complimentary album, only to emerge indignant with less money than they spent on the parking meter.
When the Fauves were your age, they had a record deal. They shook hands with industry executives across broad desks made from endangered rainforest timber while staring blankly from 32nd storey windows onto the insignificant lives of the rest of the world. Now, the only contracts to which they are signatories say that every year you've got to lose a little more dignity. Can you justify being 50 and in a rock band unless you're touring your 1975 20-million seller to negatively geared property investors who stopped listening to new music in 1988?
There it is again – 31 years. The Fauves formed in the bicentennial year of 1988, even as the tall ships were sailing into Port Phillip Bay in rude celebration of 200 years of invasion, dispossession and white supremacy. Their first EP was released on vinyl because who knew if this CD thing was ever going to take off. Decades later, their next vinyl release is a double album. In the age of streaming this is like calling JB Hi-Fi to get your cathode ray television repaired. Its songs of quiet melancholy, fake positivity and misdirected longing are carefully curated to ensure that that listeners must expend maximum effort to access their favourites. You can try to skip songs but you risk scratching the record.
This is the Fauves' wheezing marketing pitch declaiming their greatness. In the past, people preferred others. The hard rubbish was dumped on the nature strip but remains uncollected. Until the truck comes, there it lies, forgotten but not gone.