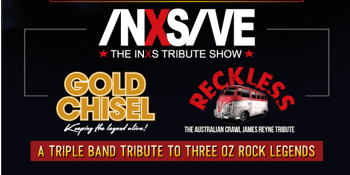 presented by Live at Your Local
INXSive, Gold Chisel and Reckless - AUSTRALIAN MADE
Chelsea Heights Hotel (Chelsea Heights, VIC)
Friday, 25 January 2019 8:00 PM
Australian Made - The Oz Rock Tribute Concert
INXS helped shape the Australian musical landscape in the 80's and 90's. Their infectious blend of dance/rock saw them conquer the music charts not only in Australia, but world wide. They built a reputation for staging electric and engaging live shows, fronted by their charismatic and unpredictable front man, Michael Hutchence. Formed in 1997, INXSIVE reproduce not only the sound of INXS, but also the live show that made them as memorable as they are today. INXSIVE give every audience the opportunity to re-experience the inspiring, and proudly Australian, music that INXS created during their career. An absolute "must see" for all INXS fans!
Cold Chisel were unquestionably one of the finest and most respected rock groups in Australian history. The songs of Cold Chisel helped to form part of what we like to call "The Great Australian Soundtrack", with many of them being best described as Australian Rock Anthems. It is with great pride that as Australian musicians, GOLD CHISEL can take these songs across Australia and help many Aussies relive the memories and at the same time introduce these timeless classics to a whole new generation.
In 1980 Australian Crawl released the seminal "Boys Light Up" album catapulting the band into the thick of the Aussie rock scene. They were a group of talented musicians that created timeless songs which still receive regular radio airplay today. Lead singer James Reyne followed up with a solo career that still speaks for itself.
Reckless - The Australian Crawl / James Reyne Tribute Show is comprised of a group of seasoned musicians that bring their extensive live experience into this tribute to one of Australia's most loved rock acts. With a theme of sun and surf and a reputation for quality performances, Reckless take their audience back to a time when they could go and see this iconic Aussie band sweating it out at their local pub venue, and etch their music into the hearts and minds of many a passionate Aussie rock fan...

Doors - 8:00pm
Reckless - 8:30pm - 9:15pm
Gold Chisel - 9:40pm - 10:40pm
INXSIVE - 11:00pm - 12:15pm

*(times are subject to change at any time)