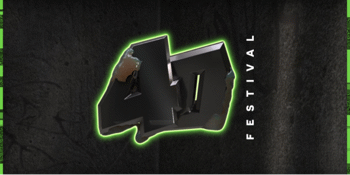 Point Blank Group
4D Festival 2021
VTSS (BER), LSDXOXO (BER), BEARCAT (NYC), SLIKBACK (KEN), and more
Melbourne Pavilion (Kensington, VIC)
Saturday, 8 May 2021 3:00 PM
On May 8, we invite you to step into 4D - a new form of festival that blurs the frequencies between rave, club culture and the digital world.

Capturing a unique time and space as we slowly emerge from a global pandemic, we explore the facets of our reliance on technology and open our minds to a new future of Dance.

With a programme aimed to highlight innovation and disrupt the stagnant norms, we present a 360-degree lighting and visual show across 2 stages, designed to pull you away from 'what is' and open up the portal to 'what can be'.

5 international artists will be transmitting sound and visuals through holographic imagery with exclusive 4D virtual sets to be seen nowhere else, along with 10 domestic artists that will step into our 4D system for digital tech upgrades and cyborg body mods.

As the present and future start to merge, we offer you an experience that will leave you wondering - is it real, or 4D?

--

LINEUP (A-Z)

International - Visual Activation:
BEARCAT (NYC)
BERGSONIST (NYC)
LSDXOXO (BER)
SLIKBACK (KEN)
VTSS (BER)

Domestic:
Casino Mum
C.FRIM
Claire Morgan
Corin
Fatshaudi
general feelings
Kilimi
Moopie
dj pgz
Sus1er

Follow us on Instagram + Facebook @4d.festival or head to www.4dfestival.com for more information.

--
We acknowledge the Wurundjeri & Birrarung people of the Kulin Nation as the rightful custodians of where this event takes place, and that sovereignty was never ceded. We pay our respects to their elders past, present & emerging, and all Aboriginal & Torres Strait Islanders' ongoing resistance against colonisation. We invite Aboriginal & Torres Strait Islander people in the community to 4D Festival, if they wish to come. There is an allocated amount of tickets so please email david@pointblank.group for enquiries.