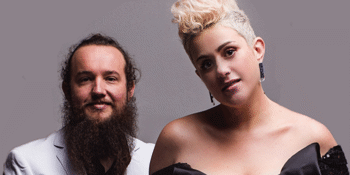 Zac Hurren + Katie Noonan present
Jazz On A Sunday Vibe
with special guests
The Junk Bar's Skukum Lounge (Ashgrove, QLD)
Sunday, 25 November 2018 7:00 pm
ZAC HURREN AND KATIE NOONAN HOST MONTHLY JAZZ SERIES AT THE JUNK BAR.
Fresh from a national tour performing his brilliant new album ASYLUM, ARIA award winning, National Jazz Award winning and Freedman Finalist saxophonist/composer Zac Hurren is hosting a monthly jazz evening on the last Sunday of each month.
Harking back to the legendary JAZZ ON A SUNDAY VIBE series that he and his wife Katie Noonan hosted at The Zoo for 10 years, this will be a unique chance for Brisbane audiences to hear world class Australian jazz in the intimate surrounds of the very awesome Junk Bar in Ashgrove.
For this special last JOASV of 2018, 5 x ARIA Award winning KATIE NOONAN will be performing an intimate duo show featuring some new songs, with her long-time collaborator guitarist CAMERONE DEYELL (NYC/LA/MELB).
ZAC HURREN will then be performing a set of searing originals with fresh up and coming voices of Aussie Jazz – LACHLAN MACKENZIE on trumpet, SAM MAGUIRE on double bass and MITCH BELLERT on drums and cymbals.
SUNDAY NOV 25
ZAC HURREN AND FRIENDS
Zac Hurren – saxophone
Lachlan Mackenzie - trumpet
Sam Maguire – double bass
Mitch Bellert – drums and cymbals
KATIE NOONAN AND CAMERON DEYELL
Katie – vocals and keys
Cameron – guitars
Doors at 6pm with music from 6.30 pm until 9.30pm
$30/25
The Junk Bar – 215 Waterworks Road, Ashgrove
http://www.thejunkbar.com.au
www.katienoonan.com
https://www.facebook.com/zachurrenmusic/