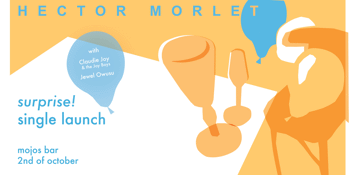 HECTOR MORLET - 'SURPRISE' LAUNCH
Special Guests Claudie Joy and the Joy Boys & Jewel Owusu.
Mojo's Bar (North Fremantle, WA)
Saturday, 2 October 2021 8:00 pm
Surprise!
Hector and his band are releasing another single and to celebrate they're throwing a party at Mojos! After packed out shows at The Aardvark and The Bird, this lot have shown they know how to put on a craaaaazy goood time. With support from the lyrically textural Claudie Joy and the Joy Boys and the fresh beats of Jewel Owusu, this is CERTAINLY not a night to be missed!
Woohoo! So much ExCitEmENt!!
---
Please note, aggression, discrimination or sexual harassment of any kind will not be tolerated at our shows. Your safety is our priority.
We would like to recognise that we are living on stolen land. We acknowledge the traditional custodians of the land on which these events will be held, and pay our respects to their elders past, present and emerging. Always was, always will be.