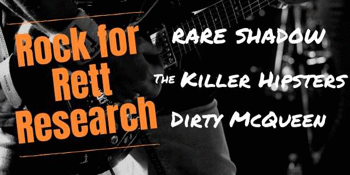 Rock For Rett Research
Charity Fundraiser ft. Rare Shadow, The Killer Hipsters & Dirty McQueen
Amplifier Bar (Perth, WA)
Saturday, 19 October 2019 8:00 PM
A Huge night of Rock with the lads from Rare Shadow teaming up with The Killer Hipsters and Dirty McQueen for a night of local, original rock! All ticket Sale proceeds will be donated to Rett Syndrome Research Trust – a charity close to the heart of the boys from Rare Shadow and Dirty McQueen.

What's in store….

Perth melodic punk rockers Rare Shadow are bringing their fast and catchy tunes to the stage again! That's as Rare as Rett Syndrome itself! The lads have lost none of their live energy or sound and are pumped to be back!

The Grungy Rock and Punk vibe of Perth's The Killer Hipsters always get the room a hopping! With influences such as The Clash and Ramones, The Killer Hipsters are always ready to rock and are not to be missed!

Dirty McQueen will kick off the nights proceedings with their foot tapping original indie rock tunes! An enormous energy from these lads will ensure the Rock for Rett Fundraiser kicks off with a boom!

So get in early and secure your tickets and join the crew supporting a charity that is determined to Cure Rett Syndrome! An awesome night of live music, good vibes and an awesome cause will make this night one to remember!