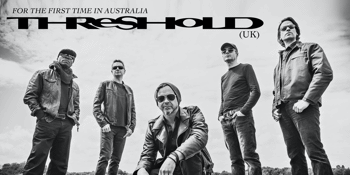 SOLPRN presents
Threshold (UK)
Amplifier Bar (Perth, WA)
Tuesday, 2 June 2020 7:30 pm
For the first time in Australia, SOLPRN Presents: Threshold.

British progressive metallers Threshold will be touring Australia for the first time during May and June 2020.
Vocalist Glynn Morgan commented "We're all truly honoured and incredibly excited to be heading down under, it's the chance of a lifetime to spread the Legend and give music fans in Australia some prog metal 'Threshold style'!"
With Glynn Morgan stamping his vocal authority all over the new album, it seems that the magical chemistry that has always been a major part of Threshold's appeal has already started to fizz and flicker around the bands freshly retooled line-up.
The release of Legends Of The Shires will be followed by a sustained flurry of live shows, as Glynn returns to the stage with his old compadres and takes the many-splendored delights of the new album to the masses, not to mention some choice cuts from Psychedelicatessen, the album that first brought Glynn's incredible voice to our attention. As far as Richard West is concerned, the future for these dogged veterans has never seemed brighter. The legend continues!