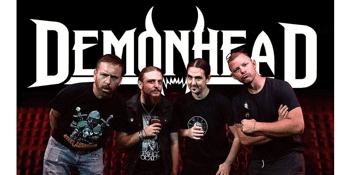 Demonhead (Album Launch)
with Darker Half, Katana Cartel, Triple Kill
The Workers Club (Fitzroy, VIC)
Thursday, 26 September 2019 8:00 pm
RSVP on Facebook here
Melbourne's Demonhead are releasing their long awaited Second album "Black Devil Lies" and to celebrate they are throwing a launch party. The old school metal influences are still strong, but a much darker and heavier Demonhead is on show this time around.
Joining them on the night are Sydney's melodic metal powerhouse DARKER HALF. They have been busy working on a new album and are on fire with new guitarist Danny Ritz in tow.
Thrash/power/folk/groove comedic geniuses and all round top dudes TRIPLE KILL are in to party as well as KATANA CARTEL who may just have written one of the catchiest mosh songs of all time "Bang your Head"
Bring down your phones, Go Pros, Camcorders and whatever filming devices you have because we want to capture the night and release the footage in our new clip for the song "Against the Grain"
Get your party boots on and come help DEMONHEAD celebrate the release of "Black Devil Lies" get your head in the new clip and take a killer hangover into the public holiday the next day!