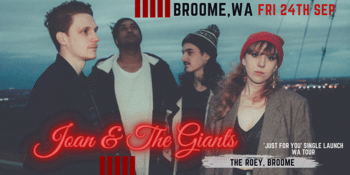 Joan & The Giants 'Just for You' launch @ The Roey, Broome
To be announced soon.
Roebuck Bay Hotel (Broome, WA)
Friday, 24 September 2021 8:00 pm
Emotionally raw, fierce and powerhouse alternative-pop band Joan & The Giants are embarking on a Western Australian tour to celebrate their latest single 'Just for You' at The Roey, Broome on Friday September 24th 2021.

Joan & The Giants formed in late February 2019, and have thus far released seven singles. Some of their career highlights include headlining Shinju Matsuri Festival to 7,500 people, being nominated for a Western Australian music award, supporting Odette on the WA leg of her 2019 'Lotus Eaters' tour, receiving raving reviews and airplay on Triple J, and most recently performing a well received late night slot on the prestigious amphitheatre stage at Nannup Music Festival.

'Just for You' is the bands fourth single to be released this year featuring the breathtaking vocals of Perth singer 'Lilia'.
"I wrote this song for a close friend who lost her brother after our first lockdown in Perth. He faced a very long battle with depression, which tragically took his life. With a heavy heart, I couldn't stop thinking about my friend who has faced many battles with her own mental health. I wanted to send her my love and tell her how precious she is to me, so I sat down and wrote her this song. Sometimes we all feel alone and disconnected in this world, and I hope that 'Just for You' can be a song to comfort people in hard times." - Grace, Joan & The Giants

With a unique back story, front-woman Grace and guitarist Aaron have been writing together for years, drawing inspiration from their own relationship. Coming together from different backgrounds, Aaron from a remote Indigenous community in the Kimberley called 'Beagle Bay', and Grace from an organic farm down South, the couple are now based in Perth with band members, Riley and Liam.