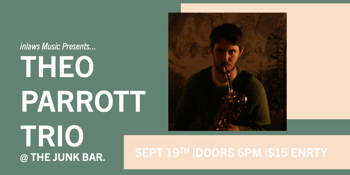 inlaws Music
Theo Parrott Trio @ The Junk Bar
The Junk Bar's Skukum Lounge (Ashgrove, QLD)
Sunday, 19 September 2021 6:00 PM
THEO PARROTT TRIO @ THE JUNK BAR | $15 TICKETS | DOORS 6PM
Having shared the stage with the likes of James Morrison and Tom Burlinson, Theo Parrott is a Brisbane saxophonist and pianist, currently completing his Bachelor of Music in Jazz at the Queensland Conservatorium. Here he studies under many legendary Australian musicians including James Sandon, Steve Newcomb, and David Spicer. With a long list of events including the Brisbane Lord Mayor's Gala Ball, the Brisbane Broncos pre-game entertainment and venues such as the Brisbane Convention Centre, Queensland Performing Arts Centre, the Brisbane Jazz Club, Eat Street Northshore, Doo Bop and Green Jam, Theo has made a big splash over the past 4 years.
With influences ranging from Frank Zappa to Bob Dylan, and Oscar Peterson to Robert Glasper and everything in between, he moves seamlessly between styles and genres, often playing varying back to back nights. Since starting his career, he has formed or been a founding member of many different groups including his own house trio, Twelfth Pier and the Theo Parrott Trio, as well as Kung Fusion and the Straight Ahead Jazz Collective.

Theo can be reached at his Instagram @theoparrott_music_ where he posts about his gigs and general playing.