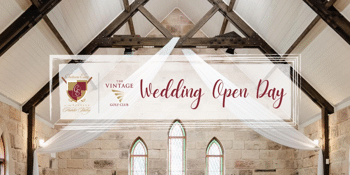 Hunter Events Group present
Chateau Elan at The Vintage Hunter Valley - Wedding Open Day 2022
Chateau Elan at The Vintage (Rothbury, NSW)
Sunday, 30 January 2022 11:00 AM
Everything you desire is right here...



With years of experience in the wedding and event industry we are proudly presenting guests with a hand-selected showcase of industry professionals and market stalls, alongside the best in Château Élan's fine dining and experiences for couples to enjoy and get a taste of what the biggest day of their lives could look like at the spectacular Château Élan at The Vintage.

If you have been considering Château Élan at The Vintage as your venue or have already booked and need to secure suppliers, then the Château Élan at The Vintage Wedding Open Day is the place for you!

What to expect on the day:
- Château Élan at The Vintage set in pure opulence with example Ceremony and Reception settings in various areas of the resort.
- Live entertainment by the amazing Howard Shearman
- Peace of mind knowing that you are exploring an exclusive, hand-selected group of exhibitors.
- Fantastic raffle of venue and supplier prizes.

This is a free ticketed event - secure your place today.

If you feel unwell, have been in contact with a suspected COVID case, or are waiting for COVID test results at the time of the event we ask that you do not attend. The event COVID Safety Plan will be updated closer to the event and any applicable Government restrictions communicated to ticketholders and enforced.