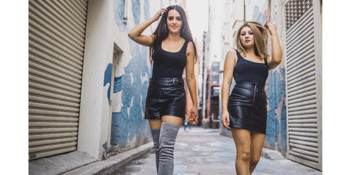 Southbound featuring Missy Lancaster & Rachael Fahim
Moonshiners Honky Tonk Bar (Tamworth, NSW)
Wednesday, 22 January 2020 7:00 PM
When two of the most recognisable names in Modern Australian Country; Missy Lancaster & Rachael Fahim chose to team up for a new project it was easy to see why heads were turning when between them the pair boast 3 Australian #1 country records and more than 7 million streams.
Southbound is something totally new for the pair with the line up completed by an all female line up of some of the countries best musicians!
Southbound will be performing hits from both Rachael and Missy's previous releases plus re-imagined roadhouse anthems and some brand new never-before-heard combined material, the guitars are loud and the drums hit hard, making a Southbound show a country rock spectacular that you don't want to miss!