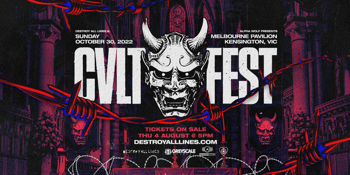 Alpha Wolf, Destroy All Lines & Greyscale Records
CVLT FEST 2022
Alpha Wolf, Silent Planet, Deez Nuts, Currents, The Beautiful Monument, To The Grave, Bloom, Vengeance & Future Static.
Melbourne Pavilion (Kensington, VIC)
Sunday, 30 October 2022 2:30 pm
Alpha Wolf, Destroy All Lines & Greyscale Records Presents
CVLT Fest 2022
featuring
Alpha Wolf
Silent Planet (usa), Deez Nuts, Currents (usa),
The Beautiful Monument, To The Grave, Bloom, Vengeance & Future Static.
************************************************

Alpha Wolf, the Aussie metalcore powerhouse has had a mammoth year and they ain't slowing down anytime soon. With the release of their epic split EP with Holding Absence just around the corner, they're pushing boundaries like no other.

Introducing you to your newest heavy music festival...CVLTFest.

That's right folks, a special one off festival curated by the band themselves to be held at Melbourne Pavilion on Sunday 30 October with a truely spectacular line up. The debut of CVLTFest features Alpha Wolf as the headliners and with friends Silent Planet (USA), DEEZ Nuts (their first show back in Australia in nearly 4 years), Currents (USA), The Beautiful Monument, To The Grave, Bloom, Vengeance and Future Static.

"This has been an idea brewing for quite some time now, we were just waiting for the right time to execute it. The idea behind it being a way to celebrate the heavy scene in Australia, while also bringing a few special international bands into the mix, and a collective way to experience an alpha wolf festival the way we would want to experience one." says Alpha Wolf.

While the road has been far from easy for Alpha Wolf and they refuse to let anything stand in their way. Throughout the chaotic and turbulent times they find themselves, the band released their sophomore album 'a quiet place to die' to critical acclaim including a #6 spot on the ARIA charts and a nomination for Best Heavy Album at the ARIA awards. Selling out multiple sold out runs around Australia, two European runs under their belt, the band are currently on a huge North American run as direct support to ERRA.

So why the line-up you ask? They explain, "We aimed to showcase the best Australian talent coming out right now combined with a bunch of exciting internationals to take it to the next level, all under the Alpha Wolf CVLT brand. We're yet to see something of this style and scale in Australia for quite a while and we just wanted to make it as exciting as possible for everyone involved."

While they don't do anything in halves and continue to push boundaries, CVLTFest is no exception. Each band on the line up will donate 10% of merchandise commission to an organisation of their choice and festival brand merchandise profits will be donated to a charity by Alpha Wolf.


"In our few experiences playing festivals with merch cuts being purely incentivised to advantage the operator of the festival, we wanted to switch that up and make it purely towards charity. With a percentage of each band's merchandise sales of the day donated to a charity of their choice, we feel it's our way to give back to the community in a small way, while also hopefully inspiring others to push for the same." adds Alpha Wolf.

So what are you waiting for? Grab your ticket for what promises to be one of the hottest festivals of the year.