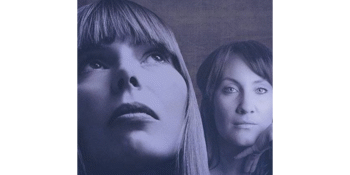 The Fyrefly
'THIS IS JONI - A SHOW CELEBRATING THE MUSIC & ART OF JONI MITCHELL'
The Fyrefly (St Kilda, VIC)
Friday, 1 February 2019 7:00 pm
'THIS IS JONI – A SHOW CELEBRATING THE MUSIC & ART OF JONI MITCHELL'
Starring
LAUREN ELIZABETH

GA $27 + bf, reserved seating $32 + bf
Online sales close at 4:30pm on the day of the show unless sold out tickets will be available at the venue.

"I have always thought of myself as a painter derailed by circumstance." – Joni Mitchell.
In what will be an unforgettable celebration of her music rather than a typical "tribute" show, 'This is Joni' offers something for everyone, and not just for solid fans of Joni Mitchell's extensive musical history.
Written and performed by Melbourne singer/songwriter, Lauren Elizabeth, the audience will be taken through an exploration of memorable songs from the legendary singer/songwriter, who defined a generation through her music. It is impossible to categorize Joni's sound, as she explored so many genres, and this show pays homage to them all.
Performing her many hits such as 'Help Me', 'Big Yellow Taxi', 'Blue' and 'Free Man In Paris', plus a collection of songs spanning Joni's 40-odd year career, Lauren will perform with her outstanding 6 piece band, comprising some of Melbourne's finest musicians and special guest vocalists.
The show will also explore the artist and painter that is Joni Mitchell and the work she has produced, dating back to the early 1950s, right up to the present day.
'This is Joni' introduces Lauren Elizabeth, who studied Performing Arts at Monash University and has been performing throughout Melbourne and Australia for over 15 years. Her most credited work includes numerous appearances on Channel's 9 & 10, performances with the Melbourne & Sydney Symphony Orchestra, singing alongside artists such as Kate Ceberano, Ross Wilson, Daryl Braithwaite, Joe Camilleri, Vika Bull, and Vince Jones, and more recently working as the backing vocalist for studio albums by The Black Sorrows.
Lauren explains, "I was introduced to Joni's music when I was 12 years old by my father, and that's when I decided I wanted to become a singer myself. She is without question my greatest musical inspiration. Writing and performing this show will be an incredible highlight in my career."

Doors open/ Dinner: 7:00 PM
The show starts: 8:30 PM

THE FYREFLY
The Fyrefly is St Kilda's superb new dining, music and entertainment room located just down the stairs at Newmarket Hotel. Creature comforts meet sophisticated glamour, with outstanding facilities for the artists to play a huge variety of music styles including jazz, soul, funk, RnB, and even comedy.
OUR DINING EXPERIENCE
Aside from entertainment, an evening at The Fyrefly entails fine dining, top-shelf hooch and classy cocktails. We offer two or three-course dinner & show packages, or you can take your pick from our A La Carte Menu. While our dishes are subject to change, our menu showcases only the best locally sourced ingredients guaranteed to delight your taste buds.
CONNECT WITH US
For the latest music news, events and more sign up for our newsletter.
Follow us on Facebook.
Learn more about The Fyrefly on our website.
www.laurenelizabethmusic.com.au
laurenelizabethmusic.bandcamp.com