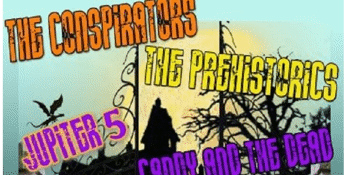 I-94 Bar Records and Promotions
The Conspirators, Prehistorics and Jupiter 5
The Conspirators, Prehistorics, Jupiter 5
Marrickville Bowling Club (Marrickville, NSW)
Friday, 23 August 2019 7:30 PM
Call it a gathering of the tribe, a mix of the old and recent. Whatever you tag it, it's going to rock Sydney's inner west to its rooftops when The Conspirators, The Prehistorics and Jupiter 5 take to Marrickville Bowling Club on Friday, August 23.
It will be a rare appearance by The Conspirators, who date from the early days of Sydney's halcyon '80s live music scene and are the quintessential DIY garage band.
They carved out a name on the crowded inner-city scene to deliver an EP and a single before members went on to other things.
In 2017, the original line-up of Colin Cardwell (vocals), Vince Cuscuna (guitar), Angelo Antidormi (guitar), Phil Tuchscherer (bass) and Phil "The Bat" England (drums) reformed 34 years after they stopped and their last outing was a support earlier this year to re-convened Darlinghurst punks The Professors.
The Prehistorics are something of a Sydney institution, forming around guitarist-vocalist Brendan Sequeira and numbering his brother (and Radio Birdman filmmaker) Jonathan Sequeira on bass.
Brendan and a revolving line-up were based in France for many years and this show will be their last before a tour of Europe. For this show, he's joined by Zach Rembrandt on bass and Tim Chillingworth on drums.
Their fourth and most recent album "Storm The Gates" was a tour de force with its Radio Birdman/Detroit-influenced, hooky pop-rock tuneage and their live appearances always deliver.
Making its debut is Jupiter 5, a new band of old heads convened from trace elements of The Conspirators, Psychotic Turnbuckles, Thurston Howlers, 69BC and other fellow travellers. They embrace their musical pedigree with lashings of 60s & 70s rock'n'roll.
From exploring the outer reaches of the solar system, Jupiter 5 crash land onto their home planet bringing the fruits of their voyage in musical form. In what can only be executed by a group in close quarters for an extended period, they will bring their own hybrid brand of rock to the worthy late in 2019. This a band from the end of the galaxy to beyond the seventh moon… a journey that relies on brute force and grooviness, with an exacting coolness to satisfy the hippest cats.